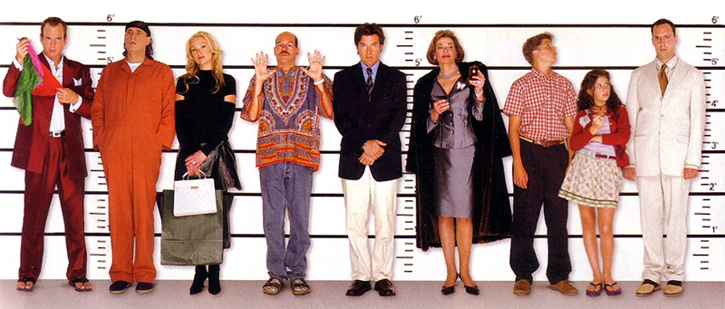 Hooray for the return of Arrested Development! To commemorate the upcoming fourth season to be released on Netflix (May 26th can't come soon enough!), we wanted to dig into the professional lives of the Bluth family and see how they might compare to the folks in your office.
Sure, the Bluths might be highly, and comically, dysfunctional, but, hey, who doesn't have flaws? Despite all the greed, selfishness and bizarre forms of The Chicken Dance, each Bluth has a unique career story to tell.
Let's get this show on the road (and watch out for hop-ons!). Tell us which peculiar Bluth character is in your office?
1. George Oscar Bluth II (GOB) -- the Lazy, Entitled One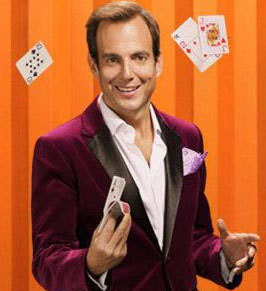 For a colleague like GOB, seniority triumphs results. As the eldest of the Bluths, GOB, feels like he should be top dog of the family company… as long as he doesn't have to lift a finger.
Michael: "Do you even want to be in charge?"
G.O.B.: "No!"
G.O.B.: "I'd like to be asked ..."
His dream job is to become the best magician in the world. Fun fact: he once asked his mom to buy an $18,000 Aztec Tomb for a trick illusion.
Lucille: "Well, I had to pay for the Aztec Tomb, GOB says it's a career maker!"
That was a HUGE mistake!
2. Lucille Bluth -- the Overly Critical, Self-Serving One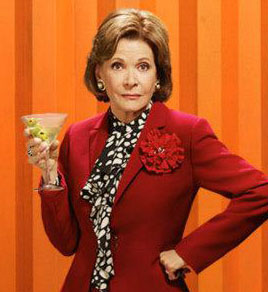 You know the type: the colleague who makes you want to constantly stress eat.
Lucille: "I don't criticize you! And if you're worried about criticism, sometimes a diet is the best defense."
It seems as though all she ever does is nay-say, criticize and throw a wrench in the system only to wink and walk away. That's Lucille for you! Though she probably genuinely loves her kids, she often acts on a whim, like the time she volunteered Buster into the army to win a dare:
Lucille: "It's not fair to Buster. He's a nervous wreck right now. He's going into the Army, for God's sake."
Michael: "You volunteered him."
Lucille: "I knew you were going to throw that in my face."
3. Lindsey Bluth Funke -- the Frivolous Activist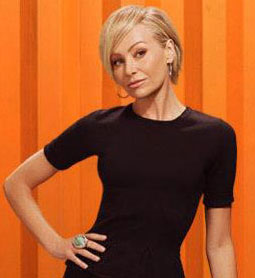 Lindsey considers herself an activist, always boasts about her latest cause or protest. But she's completely full of it:
Lindsey: "I care deeply for nature."
Michael: "You're wearing ostrich-skin boots."
Lindsey: "Well, I don't care about ostriches."
If your coworker rarely follows through on her word, talks about her disdain for materialism and then carries a new Neiman Marcus purse each week, then you've definitely got a Lindsey on your hands!
4. Dr. Tobias Funke -- the Deluded Dreamer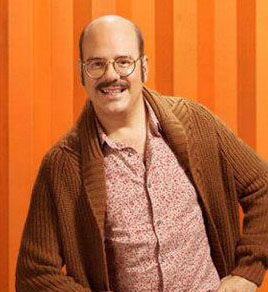 Former psychiatrist and currently unemployed, Tobias is optimistic about his future in acting.
Tobias: "Look at me -- I'm an actor … haha, an actor!"
Lindsey: "But you've never actually had an audition."
Tobias: "Well excuuuuuuuuuuuuse me." *pelvic dance*
If you've got a deluded dreamer in the office like Tobias, see if you can talk him out of any future plans for painfully grotesque hair plugs.
5. Byron "Buster" Bluthe -- the Overly Educated, Antisocial One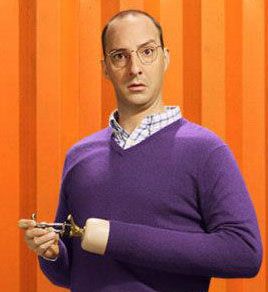 Buster is a grad student and completely overeducated with 10,000 degrees (including $80,000 of cartography lessons). None of these classes helped him overcome his crippling anxiety.
Nor did it offer any practical experience.
Lucille: "He's had business classes."
Buster: "Oh, wait, wait, wait, wait. 18th-century agrarian business, but I guess it's all the same principles.
Let me ask you, are you at all concerned about an uprising?"
6. Michael Bluth -- the Undervalued, Mediocre Boss
Michael is the only responsible, honest and hardworking Bluth "family first!"  So, naturally (and gladly) assumes the role of the boss. As a leader, he's only so-so.
Michael: "You've had your hands in the company coffers for years, and starting tomorrow there is going to be a new boss in town, and you're all going to have to start fending for yourselves."
Nice sentiments, but I'd hate to be the one to break it to Michael that no one really listens to him (except good 'ol George Michael!).
7. George Michael Bluth -- the Hardworking Frightened One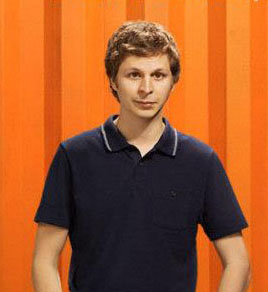 George Michael is the most nervous colleague you might ever work with. As a frozen banana salesman and student, he endures a LOT of pressure from his dad Michael, who manned the banana stand back in his day. Once, when George Michael's cousin Maeybe pressured him to ditch work, he saw his dad and said:
George Michael: "They're adults, they're allowed to be out and have fun whenever they want. We're kids, we're supposed to be working."
Come on, at least one overworked, perfectionist colleague sits in every office of America.
8. Mae Maeby Funke -- the Compulsive Liar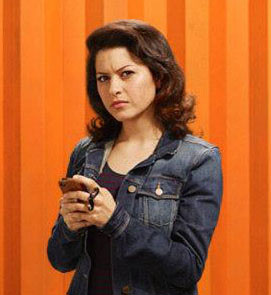 Maeby takes after her rebellious mother Lindsey –- a defiant, compulsive liar with little to no sense of morality.
Like when she somehow manages to convince people she's old enough and experienced enough to be a film executive at a huge network ("Marry me!"). Maeybe's that coworker who you despise for her unwarranted success – but you can't help but admire her unabashed confidence.
Of course, her gig is short-lived. Any professional who lies about her resume will get canned eventually (Just ask Yahoo's former CEO Scott Thompson).
9. George Sr. -- the Mastermind Entrepreneur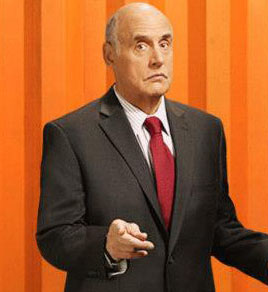 George Sr. is full of (caged) wisdom. He built the Bluth Company from the ground up himself, and everyone seeks his approval.
If you're working at a small business, he most closely resembles your CEO. Although he's technically a criminal, if there's one thing we can learn from George Sr., it's that, sometimes, if you overthink things, you just might miss the answer that was in front of you the whole time...
George Sr.: "There's always money in the banana stand."
Images courtesy of Netflix