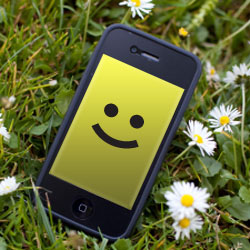 These days, it happens more often than we'd like, especially when your job is pretty much 'round-the-clock.
Work could be the furthest thing on your mind when you're going about your day and — bam! — you're hit with an important business call that you just can't ignore.
We asked our CareerBliss community what's the weirdest place they've taken a business call, and boy, did we get some strange answers! They are way too good not to share. Have you taken a work call at a weirder place than these?
1. Standing on Scaffolding
When you have four part-time jobs, you're bound to end up talking shop in odd places! At one time, Ken Kahl, Jr., owner of Crawford County Abstract, not only managed a performing arts nonprofit organization but also worked as a farmhand, pipe layer and with his family's construction business.
"I would conference with board members and recruit instructors while on the farm, or while digging trenches, and sometimes (when the noise level was tolerable) while scraping paint from the ceilings of a meat-packing plant on Sunday mornings."
2. From a Bunker in Iraq while Under Fire!
D. Nikki Wheeler, senior manager for Terumo BCT, is not faint of heart. Wheeler oversaw communications in the Middle East back when she worked for Halliburton's subsidiary KBR, and lived in a trailer in Baghdad as part of her job. The war was technically over she says, but work sites were still being attacked.
"With the time difference our evenings were Houston's morning," Wheeler says. "It just so happened that during a critical strategy call, we had to head to the bunkers."
Wheeler fearlessly did what any great communications professional would do: "I grabbed my vest, my helmet and my mobile phone and headed to the bunker to complete the call."
3. Naked in a Tanning Booth
Lori Cheek, founder and CEO of Cheekd.com, was about to get a spray tan.
"I had already disrobed and was behind the curtain ready to hop in the booth," she says.
But then there was that important business call that somehow hadn't made it onto her calendar.
"I got the text that they were waiting for me to get on the call," she recalls "Stark naked and freezing, I sat my cheeks down on a couple of hand towels on a bench and took the 15-minute call while the tanning salon attendant was waiting to press the button. I had to keep muting the call when the Mystic Spray Tan booth recording kept announcing the instructions on what to do next."
4. George Washington's Front Yard
JP Jones, co-founder of Collipsis Web Solutions, was on vacation with her family in Washington D.C. They were hitting up all the sites, and just as they were waiting to enter George Washington's estate at Mount Vernon she received an unusual number of calls from a client.
"At first I allowed it to got voice mail but the client was quite frantic," she says. And so she called him back and said "I'm standing outside the home of George Washington so I have to make this quick!"
They both had a good laugh out of it later and managed to solve her problem via smartphone in the yard at Mount Vernon, Jones says.
5. Sitting on the Porcelain Pot  
When nature calls, you never know when someone important will too! This is probably the most common, strange place to take a call.
"I took a call from my boss while I was using the restroom. I thought he would just have a quick question and that would be it," says Gary Williams, territory sales manager. Oh, boy. "He began to ask for more details. I leaned over to get a notepad out of my briefcase and when I did, the automatic toilet flushed," Williams says.
As soon as he realized where he was, the boss apologized and said he should have asked if he had a moment to talk. "I was totally red faced!" he says.
6. Slowly Progressing Uphill on Splash Mountain
Matt Steffan, president of Imprinsic Marketing Group, took his family to Walt Disney World on vacation. He owns his own business, so when a big prospect called, he just had to answer.
"I was on the water ride Splash Mountain, slowly progressing uphill!"
Luckily, he managed to carry out the call (multi-tasking at its finest!). At the end of the ride, his fiancé asked who was on the phone. "Wrong number," Matt answered.
"She hates when I do business on vacation!"