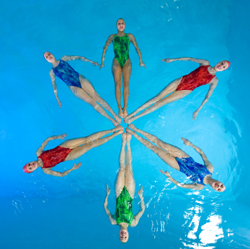 The 2012 Summer Olympics are right around the corner. There's a lot we can learn from the Olympic athletes — their perseverance, work ethic and talents are inspirational to say the least.
"Doing everything you can with your natural talent by improving your technique with good coaching and working as hard as possible to master that technique puts you in a position to succeed," says Steve Langerud director of professional opportunities at DePauw University.
Before becoming a world-class athlete, each Olympian chose a sport — one that best fits their work style and makes them feel like they're in their element.
Which Olympic sport sounds like your work-style?
1. The Succinct Pole Vaulter
You like to hit the ground running. The faster you delve into the project the higher you'll reach. You're the type of professional who can't afford to procrastinate, because a slow start means coming in below the bar (or slamming right into it). There's no time for lollygagging! And at the final stretch or tipping point, you absorb as much support from you colleagues and contacts as you can to help put you over the top!
2. The Stabilizing Sailor
You make your craft look like a breeze, but everyone knows that a smooth sea never made skillful sailor (thanks,
Pinterest
). The ever-changing conditions are no match for your swift ability to stabilize any situation. In fact, agile is your middle name! Whether it's gusty waves of deadlines or fouled projects, you can stabilize the situation under pressure. 
3. The Trampoliner
Jumping from task to task is your forte. One day you'll jump out of bed and become the star-proofreader of the office. An hour later, you'll jump right onto calculating this month's revenue report. Thirty minutes later you've jumped onto some serious social media-ing. Your complex maneuvers are what keep you on your toes!
4. The Synchronized Swimmer
You thrive in a team environment. You don't care about hogging all the glory and prefer doing your part for the good of the entire team. And even though working with a ton of people can have its ups and downs, you know how to put those differences aside and finish with a beautiful team product.
5. The Pentathlon-er?
Your jack-of-all-trades talents have your coworkers saying: How does she do it? You probably have a project manager-type role, one that has mastered all of the departments. Whether you're swimming with the IT department, jumping with the PR folks or shooting down bugs with the QA team, you've exercised every muscle of your brain well enough to ace any company pentathlon.
6. The Race Walker?
When it comes to long-term assignments, you are the Goldie Locks of professionals. You're in it for the long-haul so you don't start too abruptly, burning out in the beginning. Nor do you lag behind. Instead, you keep a swift and steady pace until the finish, never derailing from the ultimate mission.