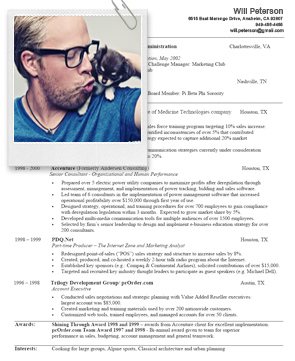 The job market is on the upswing and companies are hiring again. Many candidates are starting to believe they can finally attain that dream job — the one they would have had back in 2009 if only the economy hadn't started its downward spiral the year before — as well as the dream salary that goes with it. So, you think your resume will get you the higher-end of your desired salary range in 2011?
Well, maybe. It all depends on the content of your resume: both what you put in it and, perhaps more importantly, what you leave out. Does your resume reflect the real you or too much of you? Human resource professionals agree that putting too much personal information in your resume is the wrong tactic to take if you're expecting a bigger pay day and tends to turn employers off from the start. Conversely, leaving out vital skills and experience that relate to the job at hand is equally damaging. If you're applying for a senior marketing position and there are numerous typos on your resume, chances are you will not get the higher salary.
Also, expounding upon your skills ad nauseum and then repeating them page after page is another pet peeve of hiring managers and human resource professionals and not likely to get you the salary you want, much less a phone interview.
So, what's a candidate to do?
Previous job titles make a difference.
"We basically hire at the mid-point, unless the candidate makes it explicit that he or she wants to come in at the higher end," says Heather Marr, HR Generalist at Wolf/Sub Zero in Madison, WI. "The one who gets the higher salary is usually going to be someone who's already at that salary. Also, if they're applying to a director position and they've already been at a senior level position, we're more apt to get them that higher salary."
Mike Smith, Director of Recruiting at GeoEye Analytics in McLean, VA, says he never posts salaries, preferring that a candidate chooses a position that matches his/her skills. Salary is determined after the interview.
"If a guy is making $75K, we're certainly not going to pay him $75K, but there's a lot of info gathering before we decide on a salary," says Smith. "If he's at $85K he may not take $85K, but I have to determine how badly we want the candidate and how badly the candidate wants the position. I want people to apply because they like the job description not because of the salary. But, I do have the ability to go up and down a pay band, depending on skills."
Tailor your resume to the job for which you're applying.
"Candidates do themselves a disservice when they don't tie their value and their skills to their resume," says Erni Bridges, VP of Recruitment at TMG, a custom publisher in Washington, DC. "Many resumes have nothing to do with this job they're applying for."
The same goes for forgetting to write a cover letter. "Tell me what you're skills are and the type of job you're looking for," says Bridges. Marr concurs, adding that applicants should, "State their salary range up front" in a cover letter.
Keep it simple…and clean.
Three-page resumes are scary and make HR pros like Marr think, "You jumped around too much" and aren't worthy of a higher salary. She adds, "Some candidates use a whole page for highlights about themselves, when they can just bullet point their key skills."
She emphasizes the importance of making it easier for employers by suggesting, that if you're applying for a SQL Server DBA position, "Don't make me dig for it in your resume. Put DBA where I can see it immediately and imply to it in your cover letter."
Social networking has its place and it's not on your resume.
"It's really irrelevant the fact that they like sail boating, karate, or cello playing," says Smith of GeoEye Analytics. "I don't need to see your Facebook on your resume. Especially photos; it's just wrong. If there's a picture on your resume, I'll just toss it."
Recently, Bridges received a resume with a photo of a candidate with his dog!
"What is this?"
Resumes are not the end-all, be-all, but they do open doors.
Resumes can be embellished, so a candidate's worth is not solely based on his or her resume. But the quality and conciseness of a resume sans the hobbies and photos are what will attract and convince a hiring manager of your value. After all, you'll get a chance to showcase your personality in the interview after employers are impressed by your concise and polished resume.
Know your worth.
Also keep in mind that while it's important to make sure your resume is polished and conveys your true value, it's equally just as important to know your worth. Compare salaries to find out what others in your field are earning so you know what to expect and what to negotiate for.