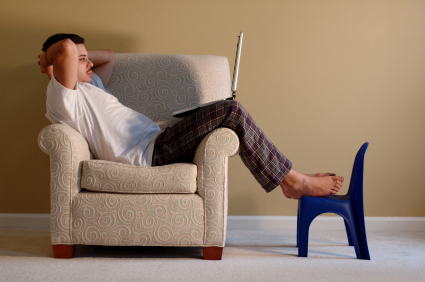 Telecommuting is big these days (Marissa Mayer and Yahoo notwithstanding!). While working from home isn't for everyone, it can be very rewarding for people interested in certain professions.
Here are six work-from-home careers that can make you a respectable living.
The duties of a virtual assistant are essentially the same as those of a traditional assistant. However, with more businesses establishing themselves in an online environment, the need has grown substantially over the last few years. In most cases, landing a virtual assistant position is easier if you have some sort of background in traditional assistant work, event management, extensive social media management and bookkeeping.
Average virtual assistant salary: $39K
The allure to being a freelance writer is that no matter what industry you think of, there will be some need for writing. A freelance writer can come in many shapes and sizes, depending on their area of expertise. The groups that yield the most work-from-home employees are technical writers, advertising copywriters, ghostwriters and SEO writers.
With many companies shifting their primary focus to Internet marketing, blog ghostwriting and basic web copywriters are in huge demand. While better-paying jobs require at least a Bachelor's Degree in some form of writing, smaller gigs may accept you based on your writing background alone.
Average freelance writer salary: $49K
According to Andrew Golden, customer service manager for The Mobility Resource, work-from-home customer service jobs are much more effective than traditional customer service environments. "The fact that you're not stuck in a call center with a formulaic script to follow really improves the customer service experience," he said. These work from home jobs are typically created by larger companies that don't have the budget or physical space for a customer service department. Customer service jobs typically require minimal education with some background experience to get started.
Average customer service manager salary: $44K
Like freelance writers, graphic artists can also be broken down into categories based on their area of expertise. There are graphic artists that specialize in web design and advertising. There are others who are making a great living by taking advantage of the e-book boom; authors need professional covers to sell their books and graphic artists are a great way to get that service. Many work at home graphic artists eventually reach a point where they are able to pick and choose their clients. Of course, education is not a huge deal breaker in this field. If you have a great portfolio and stellar references, the sky is the limit.
Average graphic artist salary: $41K
If you go on any online job site, you'll see countless ads for transcriptionists. Medical transcription, in particular, is in huge demand as of late. While basic transcription itself requires no real experience or education to speak of, it does help to have previous experience in the related medical field. Once you get the hang of the transcription process, it can become a very steady and reliable means of income.
Average transcriptionist salary: $30K
From small publishers to large businesses, everyone is always in need of an extra pair of eyes to ensure their copy is going into the world error-free. A great proofreader should have no problem roping in clients. Those with previous experience or a resume that is heavy in editing projects stand a good chance of making a successful living as a proofreader.
There are a few other professions that can make respectable work from home jobs, as more and more industries are taking the work at home approach every year. With dedication and patience, you'll find that it's not as hard to get started working from home as you might think.
Average proofreader salary: $41K
---

Chris Miller is the director of interactive marketing for The Mobility Resource, an online marketplace featuring the largest selection of handicap vans for sale. He leads a team of 15 work-from-home employees who help people with disabilities regain driving freedom through vocational rehab, veteran affairs, and several nonprofit and private organizations. Connect with him on Twitter.