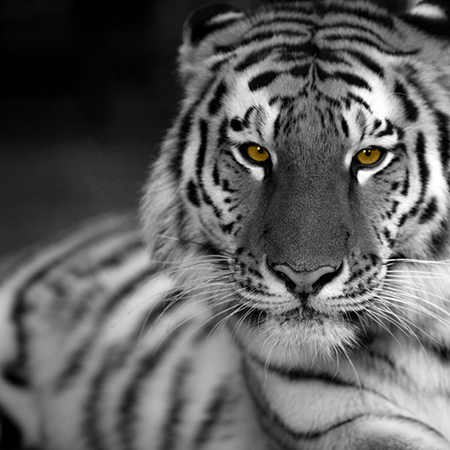 If you're trying to convince someone of anything (a job, a promotion, salary, who should win the Super Bowl, etc.), the last thing you want to do is gaze intently into your colleague's eyes.
Firm eye contact has popularly been a signal of confidence, engagement and connection—but how persuasive is eye contact, when it comes to professional settings? Recently, researchers at Harvard's Kennedy School of Government were the first to research exactly how persuasive eye contact really is.
"The intuition that drove our research was that when someone disagrees with you and they look you in the eye in a prolonged, direct manner, it gives you the feeling of someone trying to dominate you,"says Julia Minson, a psychologist and assistant professor told Forbes. "Our reaction may be primal."
Their intuition was right. Minson and team's research found that people who didn't make firm eye contact were more persuasive.
When you're trying to convince a colleague or even interviewer of something, too much eye contact can be dominating, intimidating and a fast way to nonverbally dissuade them.
This philosophy actually applies in a lot of unexpected places—take standup comic Christy Murphy, for instance. In her line of work, standing up and trying to convince a whole audience to stay attentive and laugh is no joke.
She found that "delivering an entire joke or punch line specifically to one audience member had an intimidating effect," she says. But when she made brief contact and smiled before turning to another person, the audience was more at ease.
The same goes for you the next time you're talking to a group or even one person. So…how do you tactfully master the art of professional eye contact? We spoke with relationship experts, psych experts and communication experts to clarify myths about eye contact, specifically at work:
Be Natural
When it comes to eye contact, anything that's too forced is going to come off as seeming a bit odd. "Look the person in the eye, but act natural," says Stacia Pierce, CEO of Ultimate Lifestyle Enterprises.
If you feel like you're forcing yourself to hold eye contact, it's probably uncomfortable.
Look at the Full Face
If you don't want to stare too intently at the eyes, where do you look? "When addressing an individual, look at the full face, including the eyes, and then look away to avoid causing discomfort," says Bill Rosenthal, CEO of Comunispond.
In Minson's research studies, she found that most people don't naturally lock eyes for a long time. "Your eyes naturally go back and forth between the eyes and the mouth," she notes in Forbes.
Make Eye Contact for a Full Thought, Then Move On
Going back to what Murphy said about engaging multiple people, it's important not to single out one person for too long. "When addressing a meeting, make everyone feel included by making eye contact with someone for as long as it takes to express a thought, then moving to another person to do the same," Rosenthal says. "Doing this also helps reduce anxiety. Inexperienced presenters scan the audience instead of using their eyes this way. As a result, the brain has too much information to process and anxiety is increased."

Keep in Mind, Eye Contact Meaning Varies by Culture
American culture values eye contact. "We have a 'look to listen' rule," says Kimberly Friedmutter, life management expert. "This means that if I'm talking to you and you are not looking at me, I don't feel like you are listening."
On the other hand, Eastern cultures have a totally opposite mentality. "It can be a sign of disrespect to look directly at a superior," says Sharon Sayler, MBA and author of What Your Body Says.
The Impact of Eye Contact Can Depend on Gender as Well
Sayler makes the point that the impact of eye contact differs between gender combinations as well. Here's what she told us:
Man to Man Eye Contact: Direct prolonged eye contact between men elevates the heart rate, which can give a false sense of confrontation, aggression, or not feeling safe. An elevated heart rate can activate the fight or flight response leading to conflict.

Man to Woman Eye Contact: One man and one woman constant eye contact activates the same fight or flight but can be felt two ways - conflict/harassment or romantic, depending on the relationship.

Woman to Woman Eye Contact: Two women are much more free to have prolonged eye contact, here again it depends on their relationship professional or personal, but prolonged eye contact between two women rarely leads to conflict.