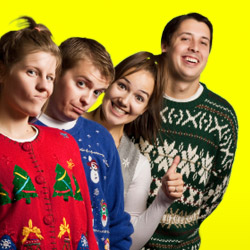 The holidays are your chance to leave other job seekers in the dust. Most of your competition is likely relaxing, vacationing, gorging on holiday feasts or maybe suffering from the holiday blues — all customary during the holidays.
Don't be one of them. Seize the moment!
If you stay on top of your job hunting game, you have the opportunity to actually use the holidays to your advantage, especially when it comes to expanding your network. Everyone's spirits are a little more elevated during the holiday season. Some feel more generous in the season of giving, and there's usually a heightened sense of caring for others.
But you have to have a strategy.
The next time you find yourself with eggnog in hand at a holiday function, consider these do's and don'ts for expanding your network:
1. Dress Swanky
Put your best foot forward and flaunt your most spiffy suit. Making the effort on your appearance can enhance your approachability. And looking good will boost your confidence.
2. Don't Forget to Smile
You won't be able to make real connections if you stick to the wall. If you catch eye contact from other attendees, don't be afraid to casually smile. This can initiate further contact or introduction.
3. Exude Confidence
There's a fine line between trying too hard and projecting an air of confidence. Feel out the situation. If the other party isn't too keen on the idea of making new contacts, then let them be. But a firm handshake, eye contact, and a cordial greeting is a sure-fire way to show them that you're friendly and happy to make connections.
4. Be the Right Kind of Memorable
What's the right kind? The one that doesn't involve having one too many drinks and singing your job blues sorrows on the dance floor. To achieve the right kind of memorable character, work on projecting a friendly and positive vibe. And lay off the booze.
5. Don't be a Flirt
More than half of people who've attended work-related functions said they have seen their associates flirt with a co-worker or supervisor, according to a Caron Treatment Centers survey. This puts you at major risk of falling under the "bad kind of memorable." Stick to professionalism.
6. Don't Spread Yourself too Thin
This can be tricky. You've got to be choosy about who you'll spend the most time schmoozing. Lets' think about this logically. Our human minds can only remember a hand full of items at a time. So, you should be able to prevent overextending yourself by memorizing the name and faces of no more than a handful of people in one holiday party. Pick your key players wisely.
7. Don't Ask for Job Openings
The last thing that the VIP guest from Coco-Cola wants to hear at a holiday party is someone soliciting them for job offers. It's simply tasteless. Most everyone in attendance is in a light-hearted mood, so don't talk too much shop. Focus on making contacts and building relationships.
8. Let them do the Talking
So, if you shouldn't converse too heavily about your desperation for a new job, then what should you talk about at a holiday party? It's no secret that people love to talk about themselves. Be an active listener by asking about others' lives and accomplishments, and you're bound to spark a major connection. If the vibe is right, ask for a business card.