CareerBliss has salary info, hundreds of thousands of company reviews and millions of jobs!
---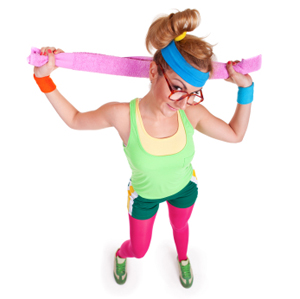 A lunchtime fitness rendezvous will keep your heart and mind happy — especially for busy bees who can't find time to exercise after work.
Exercising is the solution to so many work-related issues: overeating, stress, depression, sickness, to name a few.
Unfortunately, most people said they have no time for exercise after a typical work day, according to our recent CareerBliss poll, which asked what's your after-work fitness regimen? (My favorite is Zumba!).
It might feel daunting at first — but if you start making a habit of blocking off 30 to 45 minutes for exercise daily, you will start feeling weird if a day goes by without exercise.
If you can't make time for exercise because you're working through lunch, stop!
"That's an urge that might seem productive but actually burns you in the long run," says Nancy Rothbard, professor of management at the Wharton School of Business to LiveScience Magazine.
Try one of these awesome lunchtime fitness regimens:
1. Yoga Stretches at Work
Yoga is perfect for those of you who don't want an intense workout. Ladies Home Journal offers a great step by step guide for 10 yoga stretches to keep you alert and relieve stress. From arm stretches and chair twists to warrior and tree poses—you will feel way more energized and ready to tackle the rest of the work day!
2. The Brisk Walk
A simple walk for an hour with your headphones is a great way to let some steam.
"If you have stairs, utilize these during your first 20-30 minutes. Stairs are one of the best cardiovascular workouts you can take advantage of!" says Brooke Griffin, fitness expert and
SkinnyMom.com
founder.
3. Brooke Griffin's 30 Minute Workout
Alternatively, Griffin offers this simple workout:
Keep a small set of weights in your office. Begin with 10 overhead presses while sitting at your desk. Then drop down for ten push-ups. Use your office chair or desk to do ten dips and finish up with ten squats or lunges and 45 seconds of jumping jacks," she says.
Rest for one minute and repeat this series three times and you will have a full body workout complete in less than thirty minutes, Griffin says.
4. Kisar Dhillon's 1-Hour Total Body Workout
Now onto some serious workout options! We spoke with personal trainer Kisar Dhillon about the best way to stay fit at work. Here's a great abdominal and core workout you could do in less than an hour:
Abdominal and Core Work
Regular Abdominal Crunches: Make sure you put your legs in the air, not on the floor. If you have high blood pressure, keep them on the floor.  Do three Sets of 30 repetitions with 10 seconds rest between each set!
Forearm Body Plank: Hold the Standard Plank for 60 seconds on your forearms.
Full Body Plank: You will be on your hands and toes just like a pushup and then hold that for 60 seconds.
Opposite Arm & Leg: While on all fours, I want you to lift your right arm and left leg at the same time and then lift the left arm and right leg. Do three sets of 30 repetitions per side with no rest in between each set.
Rest: 30 to 40 seconds and then start Upper Body Workout:
Upper Body Workout
Note: Do these three exercises back to back and after the third one you can rest. You are going to do four sets of 20 repetitions per set!
Push-ups: You can do these on your knees or your toes. Make sure when you do them that you buttocks is not in the air. Remember, your arms are lowering your body down towards the ground, not your hip/buttocks region. When the body lowers, the entire body lowers as one unit, not like an inch worm.
Seated Row: When doing these exercise make sure when pulling this you do not move your lower back. Also, when you pull the weight keep your elbows close to your ribs and push your chest out so your back muscles get full flexion.
Shoulder Press into a Lateral Raise: I want you to pick a weight that you are able to do 20 repetitions with both exercises. Do both shoulder press and lateral raise back to back!
Rest: 30 to 40 seconds, and then get back to it.
Lower Body Workout
Note: You should be nice and warm right now, so we are going to jump right into lower body workout! I want you to 20 repetitions of each exercise with no rest in-between each set. Only after the second exercise you can rest.
Jumping Jacks Squat – You are going to do a regular jumping jack, but when your hands are coming back down towards your side, you want them to go to the ground and go into a squat, and then back up and repeat. Make sure you lower back does not round, but is kept straight. Always look up!
Lunges – In Place – When doing the lunges your front and back leg should form a right triangle when you are lowering your body. Also, your body should not be leaning forward; it should be going up and down like you are on a merry-go-round horse.
Rest: 30 to 40 seconds, and then get back to it.
Guest posts make us happy! Want to contribute to CareerBliss? Check out our submission guidelines.