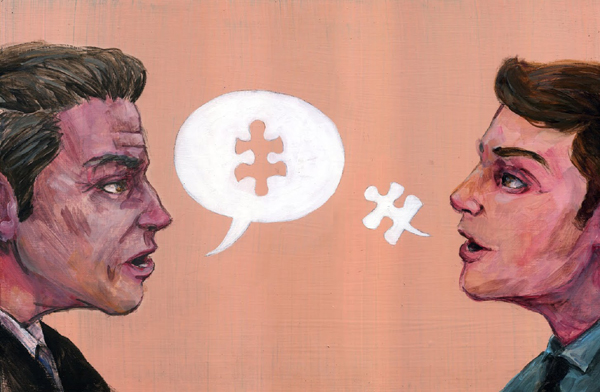 What would you tell your boss, if you thought they would listen?
Here at CareerBliss, we receive thousands of anonymous employee reviews each week. These reviews give you, the employee, a chance to tell the world about your employer by ranking them based on 'human' values that are typically difficult to measure, such as how happy you are working at your job, what the internal culture is like at your company, and so on.
Every CareerBliss review is read by a human editor before it goes live on the site. As one of those editors, I'd like to share with you what I've learned from reading thousands of anonymous employee reviews – namely, what employees really wish they could tell their bosses.
So if you're an employer, here are the top 10 things your employees would like you to know…
1. Recognition on the job is just as important as pay
The simple act of recognizing your team's efforts works wonders to boost employee morale, even if your company can't afford higher pay. And better still – it's free.
"Small studios with tight budgets don't always get the funding they need," explains a 3D Technical Artist at Tic Toc Games. "But being treated with dignity, respect, and kindness by your employer is better compensation than I have received at some studios who have paid much more."
"I worked here for 7 years," agrees an anonymous employee at Cisco Systems. "The 1st three were great. I was recognized for my efforts and moved up the ladder. My new manager was horrible at recognizing our efforts. There were no discussions, only orders. 75% of our talent moved out because they could not work for him."
2. 'No-motions' are worse than no promotion at all
A 'No-motion' is a promotion in job title only, with an increase in workload or responsibility without a pay raise. To save money, it may be tempting for bosses to assign employees extra duties to save having to hire an extra worker. However, this tactic can backfire.
"I LOVE developing," says an IT Application Developer at TruGreen. "However, I also administrate, do quality assurance, run meetings, and perform support. I basically run the show where I work, which is why I'm burning out. I am an extremely introverted person, so I'm unhappy to be pushed front-and-center."
A Lead Medical Technologist at The Johns Hopkins Hospital empathizes. "For the past two years I have been working directly with the manager because of a vacancy in the supervisor position. This has generated many extra duties. I would like to have had additional compensation for the addition Supervisor duties."
3. Depressing work environments kill productivity
Companies work hard finding and hiring the right people for their teams. However, not paying similar close attention to their employee's work environment can spell disaster for productivity and retention.
"The SWAC is in a concrete warehouse and very gloomy," muses an anonymous employee at Vectrus. "To spend 12 hours a day sitting down, when you are not allowed to be active or have a change of scenery, bears down on the employees, which is perhaps a reason there is such a high turnover at this location."
"The environment must be one that fosters team work and high spirits," notes a Computer Scientist at the White Sands Missile Range (WSMR), Dept. of the Army. "My former work environment lacked windows, which may seem like an irrelevant thing, but being able to be in the sun should never be underestimated."
4. Not properly compensating top performers can cost dearly
Employees who work in sales may naturally expect their compensation to increase in relation to the number of sales they make. A top salesperson may become discouraged if the profits they make for the company are not reflected in their wages.
"I feel like I should be paid more for the amount of work I do," confides a Solution Sales Specialist at Telerx. "My sales of last year total about $1.5 million, and I am only getting paid $1.75 more an hour than what I started at, almost 5 years ago."
A Presales Consultant at MindTree shares a similar sentiment. "I would like more incentives to have my compensation tied more closely to performance. Even though I do a lot of selling, I'm limited to the company's profit sharing plan rather than having an individual quota/bonus plan. I would be fine with a lower base as long as I had the opportunity to earn more on commission."
5. Technology firms using outdated technology is a big red flag
We get it – upgrading your firm's software costs money. But tempting as it might be to hang onto your treasured multi-user copy of Photoshop 7 (and install Windows 2000 to run it), using old software clues new employees into the fact you're broke or behind with the times, and may hamper your existing worker's productivity.
"The technology we used was very obsolete," grumbles a Senior Software Engineer at Northrop Grumman. "We used Windows XP into 2014, and Visual Studio 2008 is still being used. Young people would get some time on their resumes, then leave."
"Doing heavy development on a 6 year old HP notebook that has never been anywhere near suitable was a major pain," agrees an anonymous employee at SuperValU.
6. Treating employees like contractors hurts morale
In these days of 'At Will' employment, it's often cheaper for companies to hire salaried workers for a specific project, then terminate them when the project is done. However, not cluing the employee into the fact that they're being used as temporary labor sets the stage for heartbreak.
"I was laid off right before I was due a review/raise and 2 juniors were hired to start the Monday following my departure," laments a previous employee of Forge Media. "I hoped to grow with the company, but that was cut short because they wanted a cheap replacement."
"HR recently reclassified a team of over 200 people from salaried to hourly," writes an employee at Kaiser Permanente. "There are people who have worked for Kaiser for over 30 years and now have to punch a clock. We have to clock in to the MINUTE and cannot even change our regular shift schedule for a medical appointment. Rather ironic given that we work for a healthcare organization."
7. Glass ceilings and wage caps cause employees to migrate elsewhere
Employees like to feel like their career is going somewhere. It's a natural desire to want to advance and 'climb the ladder' in your company, and thwarting this may lead to employees feeling trapped.
An employee at Wells Fargo elaborates on this particular bugbear. "They have made it very difficult to advance. Once you are at or over the (salary) midpoint, it becomes very difficult to move up to a higher level role, which really forces an employee to leave. Not getting a raise last year despite a really good review, and knowing I will soon be up for another review and again won't get a raise, I am officially starting to look elsewhere."
"We don't get paid any type of commission, it's hourly," adds a Home Theater Specialist at Best Buy. "The department also has an hourly cap you can get paid. Once you reach that, you never get a raise, ever. Doesn't matter the amount you sell, you still get the same amount of pay. There is no real incentive for wanting to do better."
8. Employees universally hate micromanagement
Writes an Inventory Control Specialist at Microsoft, "I loved that management let us lead rather than dictating how we should be run. His take on it was, we know how things need to run - and he trusted we would get the job done. In return we wanted to prove him right and we didn't disappoint."
"I love selling technology," says the Principal Sales Consultant at MindTree. "But I hate micromanagement. Give me an objective, tell me the rules, and turn me loose. I will deliver!"
9. Belief in your company's ethics and goals overcomes all
"When you believe in a company... in the product being sold by a company, positives are easily noted via smiles on the faces of clients," writes a Client Services Manager at Aetna. "Those smiles signify 'a job well done' has just been accomplished, and retention is a success. This encourages one to naturally carry pride throughout their daily strides in the workforce."
"When you love what you do, it is no longer just a job - you think, "this is me," adds a Digital Media Traffic Supervisor at Time Warner Media. "I love what I do, and I truly enjoy coming in to work and making a difference."
10. Other non-financial benefits can make up for a lack of pay
"I'm always asked, what do I do, that they always ask for me?" a Caregiver at In-Home Support Services shares with us. "I just try to make them (the clients) feel the way that I would like to be treated. Because one day I will be old too, and would like to be taken care of in the same way. Our Seniors were there for us as we were growing up. I just think that we need to return that love and give love and care back to them."
And finally, a Historical Re-enactor at National Parks Services may have one of the best job perks of all. "I LOVE volunteering at the Castillo!" he writes, in his glowing company review. "It's wonderful to be a part of the historical weapons demonstrations and helping people to understand the history of the United States! Firing cannons, muskets while wearing period specific clothing. How cool is that?"
---
Natasha Rhodes is a careers expert and writer for CareerBliss, an online career community dedicated to helping people find happiness in the workplace. Check out CareerBliss for millions of job listings, company reviews, and salary information.