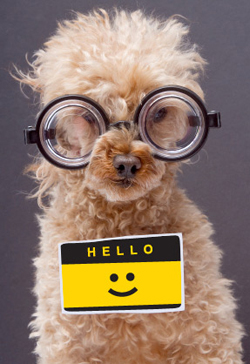 More than 80 percent of jobs are filled by referral because employers are more likely to hire you if you have someone who can vouch for you. Someone who can say something like: Hey, you know Bob? He's a real go-getter. And we could really use his jump shot in our office basketball team.
Investing your time meeting and greeting will give you a bigger payoff than, say, submitting a zillion resumes into the virtual black hole. Most of you out there in the CareerBliss community know how important it is to get out and network.
In a recent CareerBliss poll asking whether attending networking events is important, 95 percent of the more than 1,800 respondents chose "yes, it's all about who you know." The other five percent were split between "I've done fine without them" and "No – those events are lame"
Here are 10 sites that will help you find nearby networking events:
1.
MeetUp.com
If you thought MeetUp.com was just another run-of-the-mill dating site, you are oh so very wrong. MeetUp is one of the largest most successful networking resources out there right now. It hosts networking opportunities in about 45,000 cities and garners a grand total of 2 million RSVPs per month! You can even start your own … if you're feeling gutsy.
2.
Eventful
Just like MeetUp, Eventful offers a bunch of social activities (from concerts to spiritual events) all over the nation. In addition to "networking" events, there are also other overlapping categories, like conferences, literary and education that might be relevant to you.
3.
LinkedIn Events
LinkedIn Events only offers professional opportunities for networking. Meaning, unlike the first two sites, there are no rock climbing or music festival groups to sift through! Just look for your industry and then location. It's an awesome way to turn your virtual connections into real-life ones.
4.
Professional & Industry Associations Directory
Job-hunt.org has this awesome, comprehensive directory of associations. Each of these groups offers a great opportunity to make real-live connections with people in your field. This is probably the most field-specific you'll find, when it comes to networking events.
5.
DamesBond
Sorry guy, this site is a girls-only zone. Ranked among Forbes' 10 Best Career Sites for Women, DamesBond is a resource-hub that empowers women with not only networking events but also educational programs, affordable marketing opportunities and other resources, like mental health screening. This group has a monthly fee of about $10.
6.
MediaBistro
This one's a great networking resource for folks in media-related fields, including social media, PR, literature, technology, smart phones, gaming, etc. MediaBistro even offers online courses (for a fee), like writing and editing for the web and digital content strategy.
7.
EventBrite
This site is more like a one-stop directory for events happening in your area. Click "Find Events" and choose your location. EventBrite is kind of like Eventful and MeetUp because it offers all sorts of categories, including classes, conferences, business and networking.
8.
Women for Hire
This is another girls-only situation. Women for Hire is actually a recruiting service, hosting Career Expos. This is a little different than a networking event because you show up with your resume, ready to apply to open positions (basically like a career fair).
9.
NetParty
Are you in your 20s or 30s? This site's for you! Its tagline is "networking with a twist" because it hosts a bunch of cool parties at restaurants, lounges and even mansions! Sounds too good to be true, right? But it's legit — CNET ranked it the top professional social networks that take on LinkedIn.
10.
Biznik
This community is for entrepreneurial-minded folks looking to network and collaborate. If you become a member (the basic membership is $79/year), you can access a ton of events for no additional fees.