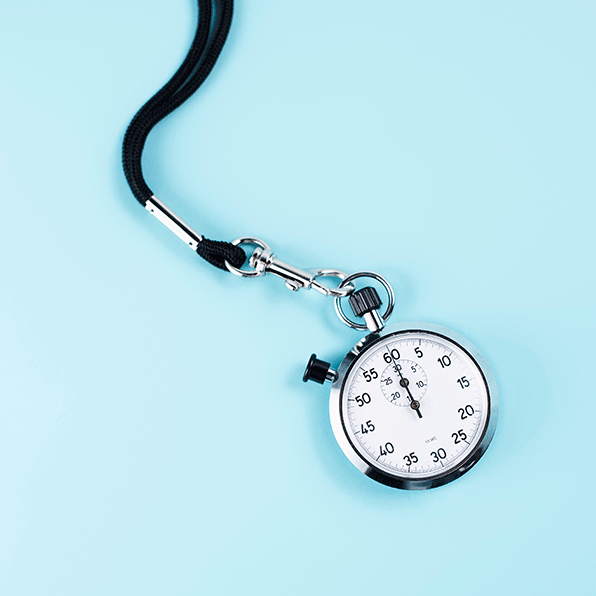 One key factor that too many job seekers overlook is timing.
Your resume may fit the bill, but if you're submitting it a week after the job was posted, chances are high that someone with a similar background will take your spot first.
For instance, "one Chicago agency earlier this year received nearly 800 online applications for an entry-level position that had been posted for two weeks," says Ron Culp, professional director at DePaul University.
Wowza.
The good news? If you're agile, fast and extremely qualified -- your chances of getting an interview will significantly improve. Read on to discover exactly why timing is important and how to be among the first applicants:
Most Employers Stop Reading after Finding Talent
It's not enough to meet the job qualifications. In many cases, you have to be among the first to submit too. "Once [employers] have what they need, they stop reading and start inviting candidates in for interviews," says Bruce A. Hurwitz of Hurwitz Strategic Staffing company. "In this economy, waiting even a few hours could cost someone an interview."
Recruiting firm ERE.net reported that on average around 250 applicants send a resume for each corporate job opening. Chances are, many of your competing applicants are going to be just as qualified as you.
Employers don't tend to thoroughly examine each and every job application that comes their way before settling on one. That would take forever. And recruiters are under a lot of pressure to deliver great applicants. Fast.
Unfilled Positions are Costly for Employers
Usually, "companies hire on an as-needed basis, so they are not waiting a fixed period of time before considering candidates," Culp says.
For a company, delays in hiring are costly in the long-run. A job opening means that somewhere, something is not getting done as fast as it needs to be. So, again, employers have little incentive to consider every single job applicant per opening. They'll hire as soon as they find who they need.
"Recruiters from several agencies recently told me that once traditional 30-day job posts are gone forever, replaced by one-week and even 3-day listing periods," Culp says.
There Are Some Exceptions  
Of course, there are some exceptions when it comes to timing. Smaller companies, for instance, might have fewer candidates to pull from. Companies looking for a unique unmet need or a high-level executive will likely take its time hiring as well.
Still, promptness can only help your situation. Small business owner Ann Bass of A Lighter Move says "I'm not necessarily concerned about who comes in the gate first, but I do pay attention to promptness with which candidates respond with info once they are in the queue." Still, she adds that at times there is an immediate need to be filled. "It should say so in the ad," she says," and "time is of the essence."
Plus, Mark Babbitt, CEO and founder of YouTern, makes a great point that applying early means following up early. "Most applicants apply… then disappear. By applying early, you can begin demonstrating sincere interest in the company and position by following-up via email and by engaging via social media," Babbit says. 
Moral of the Story? Timing Matters. Here's How to Get Time on Your Side
Create several different versions of your resume and cover letters to cater to various favorite companies.

Get emails when a new job opens up, and then apply ASAP. To create a Job Alert, simply search

jobs on CareerBliss (we have over 3 million!). Enter your email address when you promptly see a pop-up "Create Alert" box that looks like this: