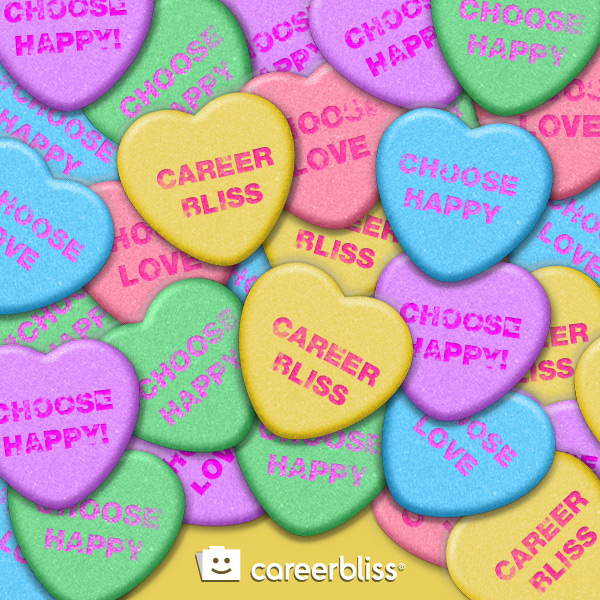 Having a great job is like having a great relationship – you have to put time, love and effort into it to make it work.
If you've fallen out of love with your job and have started looking longingly at other jobs, don't despair, help is at hand. Simply follow these easy tips, and rekindle the spark of passion you originally had for your job with these…
Valentines Day Top 10 Job Happiness Tips
1. Look for New Ways to Change Up Your Routine
Doing the same thing, day in, day out, is a recipe for boredom and allows complacency to set in, fast. Here are some ideas to shake things up:
Each week, drive or walk a different way to work. If you choose to drive, you may discover new stores, restaurants or areas of natural beauty that will add interest to your daily routine.
Hop onto Yelp & seek out new local eateries to have lunch or coffee. Or check Google Earth and see if there's a park or green space nearby where you could take a picnic lunch. The fresh air and change of scenery will refresh you ready for the afternoon's work.
If feasible with your family, time-shift your start time an hour or two forward or back, or switch to a different shift. You'll meet new people, have a shorter commute and skip both rush hour on the roads and in the office kitchen.
Use your lunch break productively to learn a new skill, take a 40-minute exercise class, or even do other paid work. One hour a day of doing anything quickly adds up.
Overhaul your desk or cubical. Chances are you haven't changed the decor since you started work. Get rid of that sickly-looking potted plant and go on a lunchtime 'Desk Shop' at your local home decorating store. A few realistic-looking plastic plants will eliminate the need for watering live plants, and a colorful piece of artwork, a summery color scheme or a creative overhaul of your existing desk decor will add new life to the place you spend 8 hours of your life daily.
2. Talk to Your Co-Workers
That guy in Accounts - Peter Whatshisname? You walk by him every Thursday on your way to the copier machine, and he always smiles at you and says something to make you laugh. Or that girl on your tech team. She joined in March and now it's November and you still have no idea what she does. Sound familiar?
Resolve to pick a person you work with and take the time out of your schedule to get to know them better. Invite them to sit down for a coffee with you in the break room and discuss the new project, make small talk and find out about their interests outside of work, or ask them to join you and your friends for a bite to eat after work. You never know what interesting connections you'll make as a result.
3. Use Micro-Slots of Free Time at Work to Exercise
For many people, the hour at the gym at the end of the day may feel like an extra slog. Assuming you're not tied to your desk by a micro-manager or stuck on a cash desk, you'd be surpassed at how much exercise you can get around your workplace during the average day.
This may not replace the gym, but it will make you feel like you're
getting a head-start on your daily exercise routine.
For instance:
* Climb one flight of stairs daily. That's 365 flights of stairs climbed a year.
* Do leg lifts in the restroom while washing your hands. Do ten reps each side, lifting to the side, then to the back (this one assumes you are in there alone).
* On the top floor? Use the ride up and down in the elevator to do stretching exercises (and once again, this is not recommended in a crowded elevator).
* Get up or get to work 15 minutes early, then go for a 10 minute walk around the block. Ten minutes daily adds up to 3,650 minutes a year, or over 60 extra hours of walking.
* If you're feeling really ambitious, add a 20 minute walk after lunch instead of spending that time chatting in the break room or checking your Facebook. That's 7,300 extra minutes of exercise yearly, equivalent to 121 hours walking on the treadmill at the gym!
4. Make Sure You Always Take Your Lunch Break
While you're shiny and new at a company, your co-workers will probably take time out of their day to grab lunch with you. Over time, however, these sociable lunches will likely tail off as you get more involved in your job.
If lunch is now a sandwich eaten at your desk while catching up on company emails, stop and think about why you have a lunch break at all - namely, to eat and have a break from work. If you work during your lunch break, it's not a break.
Studies have shown that we're more productive and better able to lock back in and concentrate after switching activities for at least 20 minutes, so go ahead and grab a coffee at your local coffee shop, browse that new store on your block, take your bike to work, or seek out a bench in a sunny spot to sit and enjoy your sandwich.
Even if you can only take a short break, you'll feel much better once you return to work.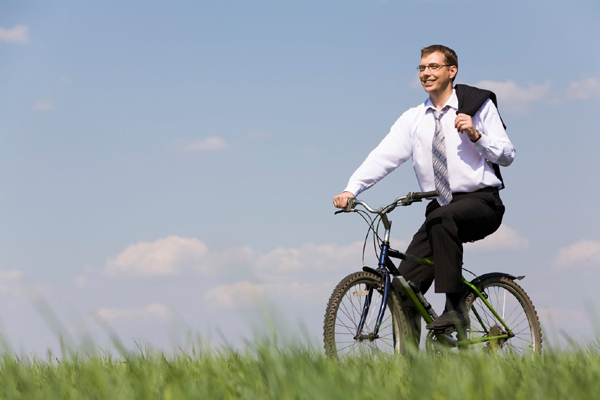 5. Set Yourself a New, Personal Challenge
We all have our 'To Do' lists at work, but sometimes, hitting those goals or getting those numbers can blind you to the bigger picture.
Set aside some time on your calendar to step outside of your job description and ask yourself, "How can I add extra value to my company?" Google famously gives it's tech team 'Developer Days,' where they can take time to work on a tech-related project of their own choosing. Many new amazing products and apps have been invented that way.
Think: what would you do with that time, if you were given one day a week to improve your company?
6. Ask to Change Your Role 
You always wanted to be a tax preparer. Now you've been a tax preparer for 5 years, and you hate it. You love numbers; you delight in details. But talking to the account-holders in person? An anxiety-inducing nightmare.
What can you do about it? One word: sidestep. Your accountant's been here longer than you, maybe he'd like to start sitting in tax appointments with you and learning more about the trade. Maybe after a few months you feel confident enough to let him handle some of the smaller clients, under your supervision of course. Eventually, he's handling them all by himself and you recommend him for a promotion.
And hey presto, your workload is now cut by a third. He gets a step up in the world, you get a break.
If you can't make too big a change, try a small change. Talk to your co-workers to see if anyone else would be in a position to trade their least favorite tasks with you. That doesn't mean dumping your work on someone, but rather a fair trade where (for instance) in the Photo Studio you work at, you label and bag orders in the afternoon (thus indulging your OCD nature), while your co-worker makes your hated drive to the frame store to pick up your weekly shipment (and gets to stop off at home and enjoy a late lunch with her home-working husband and infant).
7. Ask Your Employer to Time Shift Your Hours
Maybe the main reason you are tired of your job is your commute. You hit prime-time rush hour traffic on your way there and spend an hour crawling the 15 miles to work, and you hit the tail end of it on your way back.
Instead of quietly seething, ask your boss if you can shift your workday forward or back so you miss traffic. Unless you have a time-dependent job like key holder or first shift in a customer-facing job, it's likely you'll get your request considered.
Where traffic patterns are concerned, even a shift of 15-20 minutes may make a ton of difference in reducing your commute time.
8. Ask to Work From Home on Certain Weekdays
If you're in IT or tech, chances are you drive away from your own perfectly serviceable computer at home each day, to park yourself in front of an identical computer at work, where you sit in an office surrounded by co-workers who put headphones on and Instant Message each other all day to avoid disturbing the rest of the office. What's the point?
Reduce the wasted time and gas by asking your boss if you can work from home and telecommute on one day of the week. When you ask, it's important to stress that you'll begin this as a trial, and if it affects the team or your productivity in any way you'll end the experiment. It's also helpful if you can present your boss with some numbers to show how you'll be able to do extra work for the company in place of the hours you currently spend commuting.
And voila! Now you're answering company email in your pajamas with your cat on your lap and a smile on your face, and looking forward to your 'work at home' Fridays.
9. Find the Significance in What You Do
If you work for a non-profit foundation saving shelter animals, you will be able to see the physical evidence of the worthiness of your work every time a smiling family leaves with their new dog.
But what if you work in a clerical or data-based job where you never see any tangible end result of your work?
Try dedicating one wall of your office (personal or shared) with items that remind you why you're here. You could bring in pictures of your family, shots of your new car, or even print out some nice emails written by clients thanking you for a job well done.
10. Remind Yourself That Being Employed is Better Than Being Unemployed
Think back to your last job loss or layoff. Remember the feelings of panic and insecurity that resulted? Your current job might not be all that you want it to be, but if you're employed, you're more secure financially and emotionally than you would be if you were unemployed.
If you really hate your job and are looking for an escape, focus on the fact that it's far easier looking for a new job while you're employed than when you're unemployed. You have the luxury of a steady secure income, and no pressure or stress to grab the first available job you see.
Companies are more likely to hire someone who's in current employment, as the longer you're employed, the more desirable you become to potential new employers.
We hope you've enjoyed this guide to finding happiness in your job. If you're still unhappy after trying these steps, perhaps it's time to start looking for a better, happier career. Visit the CareerBliss jobs page to get started on building the career of your dreams.
---
Natasha Rhodes is a careers expert and writer for CareerBliss, an online career community dedicated to helping people find happiness in the workplace. Check out CareerBliss for millions of job listings, company reviews, and salary information.