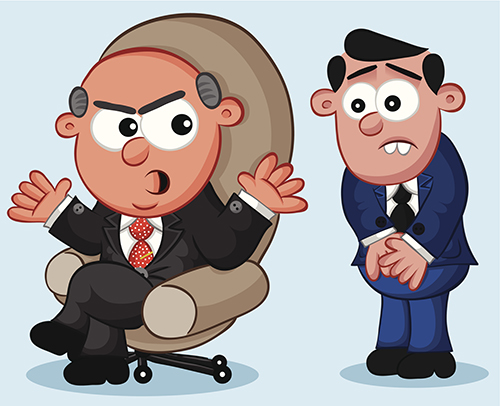 If you have a gnawing gut feeling that your boss doesn't like you, listen to it! And then take a minute to rethink your behavior, performance and day-to-day habits.
Pay attention to what makes your boss tick (and what makes her smile).
Of course, we understand this is much easier said than done. After all, if you knew why your boss doesn't like you, you wouldn't be in this sticky situation!
It might help, however, to learn from other folks who have been through a similar scenario. Take a lesson from these real life stories from managers and career experts who have experience with disliking an employee. See if you're guilty of any of these:
1. You Act like a Lawyer
"There is one specific type of employee that I simply can never handle: 'the lawyer,' " says Casey Halloran, cofounder and chief marketing officer at Vacations Costa Rica travel agency.
She's talking about the guy who's always referring back to his contract, compensation and rules. He won't lift a finger if he "wasn't hired for that."
In other words: he's the polar opposite of a team player.
"I am a full-steam-ahead sort of boss, so the ones who always question orders are the ones I like to show the door early," Halloran says.
[Check Out: 7 Ways to Impress Your Boss]
2. You Have a 'CAN'T-Do' Attitude
Another disliked employee is the one "who has a negative attitude rather than a positive or 'can-do' attitude, according to Edward Carrick, owner of
Performance Analysis.
Your attitude is a reflection of how you will be perceived. A negative attitude is a sure-fire way for your boss to perceive you in a negative light.
If you have to say something negative, follow it up with something positive or solution-oriented. And remember to smile!
3. You Tell Inappropriate Jokes
"I had an employee who would constantly tell dirty jokes," says Greg Ciotti, CMO of Help Scout.
"Most of us can appreciate raunchy humor now and then, but in the right context, such as at a bar with friends."
This is a fair point. You might be hilarious, but are you offending anyone in the room? Your boss might be uncomfortable with your humor, and it's a hard thing to address.
"They lacked the social sensitivity to realize that work humor and socializing is a lot different than what you can do outside of work," Ciotti says. "I didn't even need to step in—this person was fired almost right away when he made a crude joke in front of our judge!"
4. You are Expecting Too Much Hand-Holding
All bosses love a self-starter. The last thing she needs is to come up with step-by-step instructions on how to get something done. It's understandable, too much hand-holding ends up being more work for her than necessary on top of her own load.
Your job is to make your boss' job easier.
"You're the extra weight in the trunk that works against forward motion," says Susanna Breslin on Forbes.
5. You Only Work Just Enough to Keep Your Job
"Those who obviously only want to put in just enough to keep their jobs," is another type of employee that Carrick has encountered and grown to dislike.
Your boss can probably see your potential more obviously than you realize. If she sees you putting in just enough not to rock the boat, she'll grow to resent your lack of enthusiasm for your job when you can do better.
Instead, bosses love folks who'll take charge and steer the boat once in a while. Again, self-starting is key.
So...What Can You Do?
In the off chance your gut is wrong, consider paying attention to her behavior with your colleagues. Could it be that her cold vibe is part of her personality? Or are you making an assumption?
Regardless, show respect, be positive and go above and beyond your call of duty to make sure you aren't giving your boss a reason to dislike you! And if you have a bad boss who can't be pleased, unfortunately, it may be time to look for another job.