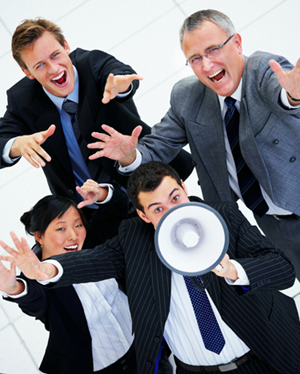 It can be tough being an introvert in an extroverts' workplace – and it may be getting tougher.
Even though a third to half of the population is introverted, according to writer Susan Cain, our society is becoming more and more biased in favor of extroverts.
The office is a great example, says Cain, author of best-seller Quiet: The Power of Introverts in a World That Can't Stop Talking.
"Many of us now work in offices without walls, with no respite from the noise and gaze of co-workers," she writes in CNN.
"And introverts are routinely passed over for leadership positions, even though the latest research by the management professor Adam Grant at Wharton shows that introverted leaders often deliver better results."
These challenges notwithstanding, we introverts should neither shy away in the workplace nor be forced to change who we are to appeal to the extrovert ideal.
The best way introverts can succeed in an extrovert culture is to acknowledge that we are different (but not better or worse), focus on the positives and avoid the negatives:
1. Extroverts Trust Their Gut
A smart, knowledgeable extrovert can confidently act on gut instincts when it comes to tough decisions, which is a valuable quality to have on your team.
"Extroverts tend to make decisions quickly and decisively. And they tend to be very comfortable
in their interactions with others. These are two reasons why extroverts often rise into leadership positions," says Leigh Steere, co-founder of Managing People Better.
2. There Will Never Be an Awkward Silence
Working with an extrovert is a great opportunity to watch and learn how to small talk. It's true, sometimes talking about nothing is useful because it builds rapport. While small talk may not be pleasant for introverts, it can be a useful tool.
"If an introvert can adjust his or her communication style to plan for a couple of minutes of connecting with the extrovert at the beginning of the conversation -- asking about their weekend plans, their family, etc. -- the extrovert is likely to shift into a more task-oriented mode more quickly, which will benefit the introvert," says Laura Still, MBA, Career Revolution Group.
3. They're Upbeat and Energized in Teams
"[Extroverts] will keep the mood lively and upbeat," says Roy Cohen, career coach and author of The Wall Street Professional's Survival Guide.
People are like fuel for extroverts. They get their energy from socializing, which is actually great for networking when you are looking for new opportunities. Befriending an extrovert can be a good way to open up your network.
To work better in teams, "introverts can schedule time one-on-one with the extrovert to collaborate, and then agree to work on specific items separately and reconvene at a later date," Still says.
While extroverts bring benefits to the workplace, there are things to watch out for:
1. Socializing Can Become Distracting
While socializing can be great for networking opportunities, "extroverts' enthusiasm and talkativeness can come across as overwhelming to some coworkers," Steere says. "Extraverts often like to think out loud. They are likely to stop by your office, because they want a sounding board."
You do not have to be their sounding board.
"Be careful to establish boundaries or they will assume you are an eager and willing audience," says Roy Cohen, career counselor and author of The Wall Street Professional's Survival Guide.
If you find yourself getting sucked into a whirlwind of chatter, simply tell them you are busy -- Hey, can we discuss this another time? I have a ton of stuff to do.
Teach them how to respect your space. Learn to say no.
2. Extroverts Aren't the Best Listeners  
"Because they like to be the center of attention, the issues and needs of others tend to be unheard or discounted," Cohen says.
The overwhelming chattiness of extroverts is a great example of their lack of reflection on how their actions and words are affecting other people.
"Extroverts take up a lot of air space," Cohen says.
Keep it professional, but be firm. Make sure your voice doesn't go unheard around extroverts and their self-interest. If you don't feel comfortable speaking up in a group meeting, for instance, follow up that meeting with an email proposing your viewpoint or idea.
3. Extroverts can Induce Exhaustion
OK, I'm just going to say it. Super outgoing, extroverted people can sometimes be very draining. It makes sense -- they get their energy from other people. For introverts like me, though, they end up sucking the energy right out of me.
Here they are bouncing off the walls, going on and on about something unrelated to work, and all I want to do is get my work done in peace. There's no reason to try and mimic their energy level all the time. It can actually hurt your morale and productivity.
If you want to be alone with just your headphones and your work, it's perfectly fine to carve out a chunk of your day just for you.