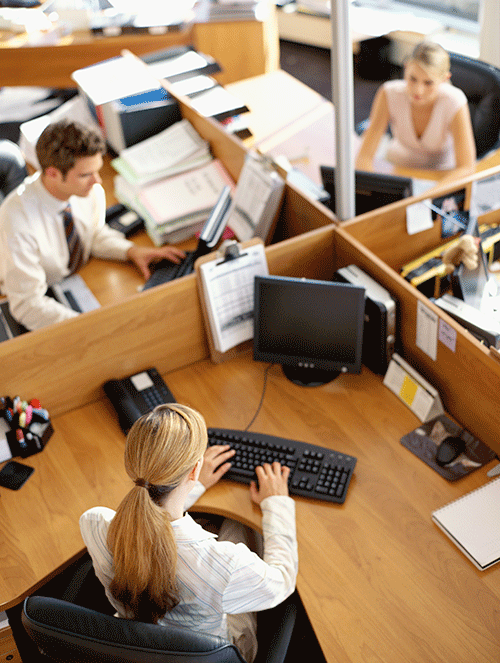 The late creator of the cubicle office, Robert Propst, once said "crass people" took his original partitioned workspace and made "little, bitty cubicles and stuffed people in them. Barren, rat-hole places," according to CNN.
And it's only getting worse – average space allocated to individual employees in the U.S. is forecast to be less than 100 square feet by 2017 (we suspect the that includes all workers – from executives to interns).
With cubicles commonly ranging from 25 to 64 square feet, many workers are already well below that figure. At the same time, cubicles are becoming less private. Partitions are shrinking, being replaced with glass or disappearing altogether.
Why is this happening! There are some pretty good reasons why companies love open plan offices: They are cheaper. They make supervision easier. Telecommuting is more common.
But how do open-plan offices effect employees – aka those of us who actually work in one?
Working just a few feet away from your coworkers for 8 or more hours a day can surely drive you nuts. If you feel this way, you're not alone. Check out the top annoyances from professionals we spoke with about open-plan offices. Also, share the etiquette tips infographic below with your team (hint, hint):
1. Distractions Galore
Open-plan offices are a bad idea if your coworkers are inconsiderate. For instance, when you're on the phone with a client, and your coworkers are acting "immature, childish and giggling," clients can definitely hear it in the background, says Martina Schramm of DtG Golf and Events Group.
The constant chatter, coughing, sneezing, can-opening can be really distracting. A study by Dana Johnson and Gary Evans suggests that the constant distraction of colleagues' noise dampens employees' motivation, according to a CNN report.
2. Privacy Please?
According to a study by Berkeley researchers conducted over a decade, most workers find "speech privacy" the biggest problem.
It's ironic because the original intention of the cubicle was to offer a little more privacy for secretaries back in the 60s. Propst's original design included a 90 or 120 degree angle so that everyone would be facing away from each other, with medium partitions and plenty of room.
So much for that!
"There's no way (like a closed door) to say 'do not disturb,' so anyone can come by and interrupt your work flow," says Tracey L. Anderson, freelance writer and editor, who has worked in an open-plan office for 10 years.
3. Friction with Coworkers
"You have to have a room where you can go and have an argument without everybody listening in. It's a problem if a building can't accommodate that," Karsten Ifversen, architecture editor told CNN.
Some might argue that the biggest advantage of the open plan office is the ease of collaboration. Think again!
"Research shows that while conversations are indeed frequent among employees in open offices, they tend to be short and superficial — precisely because there are so many other ears around to listen," according to an article in Time magazine.

4. Pass the Kleenex?
Ninety percent of studies looking at open-plan offices linked them to health problems and increased instances of illness, such as stress and high blood pressure, according to the Asia-Pacific Journal of Health Management, cited by BBC.co.uk.
Enough said.
5. Open-Plan is a License for Micromanagers
"When you work for a boss who is constantly looking over your shoulder and editing your work every step of the way, it can feel enormously claustrophobic," says Roy Cohen, career counselor and executive coach.
Open architecture makes it a little too easy to constantly check up on you. Where's the trust? "The same goes for criticizing the people who work for you. Never do so in public unless it is your intention to lower morale," Cohen says.
Solution? Share these etiquette tips with your team as advised by Jodi R. R. Smith, an etiquette consultant. 

10 Etiquette Rules for Open-Plan Offices
by CareerBliss