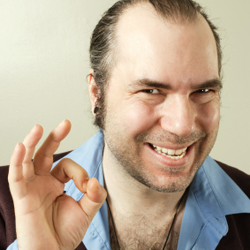 While some people view networking as disgustingly self-promotional, the positives definitely outweigh the perceived negatives.
Someone in your network could alert you to a new position opening up at the company you've been dying to work for. Or your contacts could provide valuable advice about the best software to learn.
Here's how to network, without feeling slimy.
1. Go Ahead, Give 'em Your Card
There's no shame in ending a conversation with a handshake and a business card. It may seem forward, but it more likely sends the message that you are serious about following up with the person you just met. Business cards are an important networking tool because they help you remember names and contact information. On the back of the card, write when and how you met the person and some of the topics the two of you talked about. That way, you can more easily reconnect in the future. And do follow up. Connect on LinkedIn or send your new contact a quick email saying, "It was nice to meet you; let's keep in touch." You'll be surprised at how receptive people can be.
2. There's No "I" in Networking
Well, actually there is, but never mind that small detail. What counts is that you think about a network like a team. Sure, you may score the game-winning point, but you couldn't have done it without your teammates (unless you're Kobe Bryant).  And you need to be there to assist your teammates when they have the ball. You may also need different players' strengths at different times during the game.
In other words, while you should think of ways that you could use your network to help you land a job, you should also think about what you can do to help the people in your network. It could be as simple as sending a career-related article that you think she would like or offering your proofreading services.
3. Go to networking-friendly events
Conferences and meetings of professional societies are great opportunities to network because people come expecting to meet new contacts. They are interested in expanding their circles and exchanging ideas, so you don't have to feel bad about walking up and extending your hand to someone you don't know. Many professions have both a national society and local chapters. If the society you want to join doesn't meet anywhere near you, check out websites such as Meetup for gatherings of like-minded professionals in your area. Meetup has groups for beekeepers to WordPress enthusiasts and everyone in between.