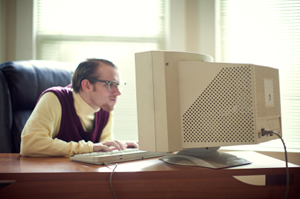 Just when you get the hang of the new computer software you're using at work, there's an upgrade and you're expected to learn it all over again. Why do they keep tormenting you? Believe it or not, these upgrades bring improvements that help you to be more productive. So why are you resistant to these changes? Not knowing how to do something isn't bad, but not learning will be if your job depends on it.
It's a Whole New Dot-Com World
Sure, the kids know this stuff like the back of their hands because they've grown up with it, but age isn't an excuse for technology ignorance. There are many gray-haired grandparents zipping around the web. Join the fun; all you need is a desire to learn. Here's a good way to start:
• Take a deep breath most technology is designed to be user-friendly. Try to alleviate your anxieties and view the computer, software and other technology as helpful tools instead of a challenge.
• Take notes and ask someone who is technologically savvy for help. Remember to respect their time by taking notes on the steps you need to accomplish a task. If you are learning a program or a device you will use regularly, consult your notes and you will soon be proficient.
• Take a class, do an online tutorial, read a manual or, if you need in-person assistance, take an adult education class. Read up on technology, so you can eliminate fear of the unknown. Get familiar with how technology benefits you and you will be more motivated to embrace it.
• Take time to chat and buddy up to the IT people at work or the person in the office who seems to know how to use every program or has all the new gadgets. Don't just ask work-specific questions, have conversations with them. Let them show off their knowledge and maybe their passion will rub off on you. Your kids can also be a wealth of information.
• Take time to play, search the web, play computer games, create a PowerPoint presentation, keep up with friends and family through the Internet, make a video, do a family newsletter. Enjoy what you can do when don't have any pressure to perform.
Onward ho!
Keeping up with technology can only benefit you. It will help you stay competitive in the business world, make you a better conversationalist, and you'll be able to keep tabs on what your kids are doing with their gadgets.
You may find it frustrating that technology moves at a fast pace and there's an overwhelming amount of information out there but don't fret. You don't have to be an expert or early adopter but being familiar with commonly used computer programs, the Internet, social media and other popular technology will help you thrive in the 21st century.