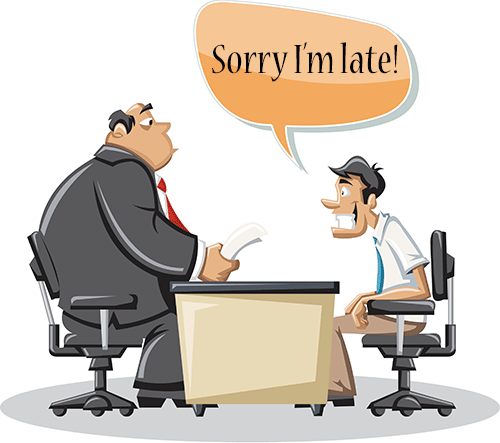 A staffing firm in Oklahoma City, Express Employment Professionals, surveyed 300 hiring managers about the biggest interview blunders that they have seen – and the results are pretty unbelieveable.
We know that you, CareerBliss readers, would never make these blatant errors especially if you've read the CareerBliss Career Guide to Job Interviews.
Still, we thought you might get a good kick out of these terrible resume mistakes that other folks have made. Most ridiculous: bringing a friend or relative, smoking and fiddling with your phone! Here's the full list:
1. Lie about experience: 65 percent
It's no surprise this was the most common interview mistake. Fibbing about your skills is all too common. Remember former Yahoo CEO Scott Thompson? He was fired after folks figured out that he never got his degree in computer science.
25-year-old Adam Wheeler lied about going to Harvard, which landed him jail time for violating probation. The same goes for interviews. Lying is the fastest way to hot water!
2. Answer a phone call: 61 percent
Play it safe and leave your phone in the car. This is going to help avoid no. 6 and 7.
Note: if it's a foreseeable emergency (like your wife is past her due date), make a disclaimer before the interview starts.
3. Arrive late: 59 percent
A standard rule of thumb is to arrive about 10 minutes early. That way you have time to power pose in the bathroom, breathe and give yourself some positive affirmations to appear more confident. Check out 3 Ways to Boost Your Confidence Right Before a Job Interview.
4. Badmouth boss or co-worker: 51 percent
The most common instance to trip up on this one is when you're asked "Why did you leave your last job?" or "What did you enjoy least about your job?
Basically, any question that asks you to talk about your last job is also a test to see how tactful and diplomatic you are. Don't fall in the trap.
5. Act arrogant: 39 percent
It's your interview. A place to flaunt your best assets. But there is a fine line between confidence and arrogance.
Some ways to make sure you don't cross that line: give credit where it's due, use terms like "we" but also point out your initiatives.
6. Check phone: 32 percent
See No. 2.
7. Text: 29 percent.
Again, see No. 2.
8. Use poor language or slang: 28 percent
While it's great when your interview turns into a friendly conversation, remember to practice speaking clearly and concisely. Avoid "um" "like" and "you know" because filler language adds nothing to your case.
The best way to avoid poor language is to do tons of mock interviews and record yourself. Play it back to hear when you're too casual or accidentally use poor grammar.
9. Smoke: 24 percent
Even if there's a designated smoking area, you never want to walk in smelling like tobacco. It's a terrible first impression. Chew gum instead (but spit it out before the interview).
10. Bring a friend or relative: 21 percent
Unless it's an absolute emergency (like your babysitter bailed on you last minute), there's no reason to bring a relative or friend with you to your interview.
What do you think is the most ridiculous interview mistake? Tweet us 
@CareerBliss
!