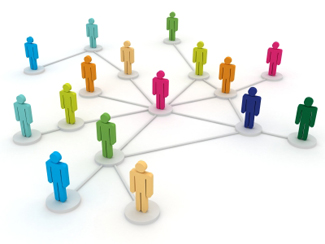 You've heard it a million times and you're probably going to hear it a million more: Networking can land you a job. The sad thing is, job seekers still aren't taking advantage of all of their networking opportunities. Maybe you think you don't need it. Or you're an introvert. Or just don't know where to begin.
Wrong. Wrong. And wrong! Regardless of your excuses, you need to network.
Did you know that more than 60 percent of jobs are found through networking? With only a small fraction of job openings being posted on job boards, a successful job search depends on developing strong professional connections outside of your friends and family.
The truth is, your lack of networking skills is killing your job search. Here are a few ways to turn your search around:
1. Create a Networking Plan
Being a successful networker online and off means that you have to do your research, strategize, create goals, and set a timeline. Everyone networks differently, all successful networkers put a plan in place to ensure their goals are completed.
Begin your plan by researching your industry – learn everything there is to know about the job marketing, companies, types of positions and, most importantly,  thought leaders. Prepare a strategy by nailing down your elevator pitch, general questions to ask during informational interviews, and the outlets you plan to use to identify and reach out to connections.
The goals you create for networking should be focused on who you want to connect with and how you would like to do it. This can be done through emails, phone interviews or in-person informational interviews. To make sure that all of your goals are met, it's important to set a timeline. This ensures that you are reaching yours goals in a timely manner.
2. Put Aside Worries, Fears and Inhibitions
It's perfectly normal to be intimidated when developing networking relationships, but never let this fear hold you back. You might be worried the person you're attempting to connect with will feel bothered by your offer, or they might not respond at all. Regardless of the situation, take a moment to address your fears and keep in mind that that there are a lot of people out there that would be happy to build a professional connection with someone looking to gain career knowledge. The key to developing a successful connection that doesn't result in anger or avoidance is by offering an unmatched level of interest and respect for the individual you've reached out to.
3. Utilize Your Social Networks
While one of your networking goals should certainly be to develop as many face-to-face connections as possible, social networking platforms are incredibly beneficial to successful networking. Whether you're using them to research, identify or even reach out to connections, Twitter or LinkedIn can great a greater connection pool for your search.
Connecting via a social platform might also help to ease the initial fear of reaching out, as well as give you key insights into your potential connection's online brand, interests, experiences, and knowledge. All of this will be essential when you do reach out and as you build up a professional relationship.
4. Take Time to Listen and Learn
Just because you sent an email, exchanged business cards, or clicked the follow button doesn't mean you've successfully networked. Building networking connections takes time, respect, and a deep interest in both listening and learning from the person you are connecting with. Your connection knows you are searching for a job, it isn't necessary to continually ask them if they have heard or seen anything for you. Instead, spend time asking them about their experiences and allowing them to offer you professional guidance in more ways than the job search. Building professional connections, like most relationships, takes time, effort, and a strong two-way chain of communication.
5. Stay Positive
 A confident and positive attitude is the most important part of any job search, especially when you're attempting to develop a strong network. No one wants to chat with the down-and-out job seeker who feels like they can't win. Remain vigilant and positive in all forms of communication. A healthy amount of confidence will also help you to make the initial connection in a way that leaves the individual feeling certain that you are interested in their time and knowledge.