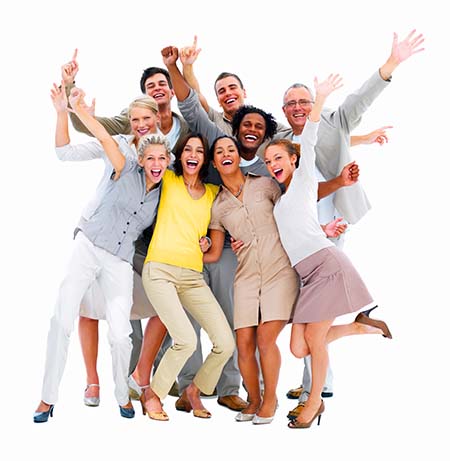 Have you hugged a colleague yet today? Studies show that maybe you should.
Well, you don't have to necessarily hug them if that's awkward, but researchers at the Wharton School of Business found that a generally loving office culture actually makes professionals happier, more successful and more engaged in their work.
They surveyed over 3,200 professionals across seven different industries. Their findings will be published in an upcoming issue of
Administrative Science Quarterly.
"People who worked in a culture where they were free to express affection, tenderness, caring and compassion for one another were more satisfied with their jobs, committed to the organization and accountable for their performance," according to Sigal Barsade and Olivia O'Neill, who are the researchers of the study, on Harvard Business Review.
Their findings are an important reminder that a culture of kindness, encouragement and collaboration in the office can go a long way—more so than, say, a cutthroat culture of fear.
Whether or not your work environment offers a warm feeling every morning, there are small measures you can take to spread joy around. Chances are, it'll catch on! All it takes is one person to make someone's day.
Here are some ways to foster a more loving, caring and compassionate culture where you work!
Cutthroat Colleagues Crave Kindness
Nearly every office has a cutthroat colleague. It can be hard to enjoy your work when someone's always out to steal credit, dominate and make snarky comments.
The best thing to do is simply smile. You'd be surprised how disarming it can be to bullies. It's not as fun to be rude if you're not phased!
Plus, if you focus on doing your personal best, you'll succeed anyway. Why fret?
Pro tip:
5 Ways to Deal With Cutthroat Coworkers
If a Coworker is Slacking, Consider Helping them Out
It sounds counterintuitive, but if your slacking coworker is making your work environment less happy, consider talking to them and helping them out.
"Talk to the co-worker about what's on their plate and what's on yours," says Kelly Walsh, owner and president of a personal growth consulting firm. You never know…he might not realize how much you have on your plate.
"I've also offered to help them with a task to get the ball rolling then leave them to finish it," says Conor Keenan, account manager at Perfect Search Media. Make sure you give them credit where it's due! You'd be surprised how encouraging and motivating this can be.
Pro tip:
How to Deal With a Slacking Coworker
Little Gestures Can Go a Long Way
Personalized notes, saying 'hello' every morning, flashing a smile when you pass by, bringing donuts for the team and offering genuine kudos are just a handful of little things you can do to cultivate big happiness.
Bonus perk: In the long run, these gestures, helping others and generally being a great team player can help you in the long run (as long as your own work doesn't suffer!).
"Let's face it, if I have a choice to hire or promote and there are two candidates who are both qualified, I am going to choose the one I like more since so much of business is about relationships and I will actively pick the person who is easier to work with on a daily basis," says Jodi R. R. Smith, founder of Mannersmith Etiquette Consulting.
Of course: The key here is genuineness. Again, if you focus on doing your personal best, remember that you'll come out a winner over any toxic coworker, anyway. So, why not spread a little happiness while you do it?
10 Little Ways to Spread Happiness at Work [INFOGRAPHIC]