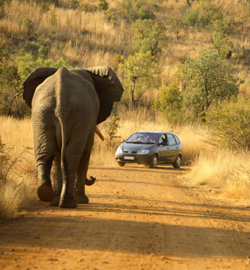 Commuting to work is almost as certain as death and taxes. In fact, if you work in a big city office, chatting about your commute seems as common as talking about who won last night's game. Only, no one wins on the Interstate.
Commuting isn't as fun as baseball, but the good news is that you can take steps to make it a better part of your day. Here are three things you can implement right now to make your commute at least a little more bearable, if not happier.
1. Change your attitude
If you don't feel happy, often it's your attitude that's holding you back. Now's the time to change your outlook on commuting. Think about your drive or ride on transit as a part of your day—instead of something that is keeping you from getting on with your day. It's a part of the routine, just like eating breakfast, watering the plants or taking a shower. Any of these things could be a chore or something to enjoy. You happily belt out tunes in the shower, so why not in your car?
2. Listen and learn
At the risk of sounding like a National Public Radio pledge drive ad, I will say that your commute is a time for learning more about the world. You can slip into the seat, seal up the windows, and learn a foreign language. No one will hear you clumsily repeat after the Learn German In Your Car instructor (Der Mann isst Fisch!), and you will be learning a new skill to further your career. Newer cars often have a jack to plug in an mp3 player, which makes listening to podcasts and audio books even easier. Just don't fiddle with it while driving.
3. Don't keep score
This is more easily said than done, but you'll be much less stressed if you don't keep score on the road. If you see someone you just passed zip right past you, let it go. If you always seem to pick the slowest lane, shrug it off. If someone cuts you off, back off and give them even more room. You'll feel more relaxed when you don't worry so much about whether someone will be able to see you flip them the bird from behind tinted windows. Commuting happier not only means less stress, but also hopefully fewer accidents. That's something we can all be happy about.