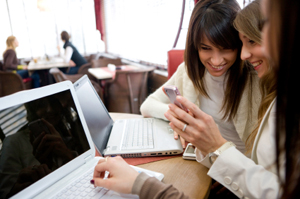 When you see certain coworkers walking toward you, do you ever want to stick your fingers in your ears and go, "Ba-ba-ba-ba-ba-ba-ba-ba-ba-ba-ba-ba…"? Sometimes you just want to do your work and not have to hear about the latest office romance, who's getting fired or that there won't be an annual increase this year.
Avoiding the water cooler, coffee machine and monthly birthday cake won't be enough to dodge all the workplace gossip. Instead of shunning it altogether, you may want to learn how to manage it.
Why Do People Gossip?
Some experts believe that humans are programmed to gossip; it's a survival skill. Instead of thinking about all gossip as bad, put it in perspective. As with most behaviors, motive comes into question. There are people who love gossip because it gives them a thrill or makes them feel powerful to be in the know. Keep this in mind before you tell someone something you don't want the entire office to know.
Trash Talkers – Who's Gossiping?
Some gossip could be relevant information regarding how you perform your job or what is going on in your company. If you trust the person telling you, that may be beneficial gossip. Consider it information that isn't completely verified, provided by one person's perspective and based on their unique experience. On the other hand, if the person blabbing is negative or the office busybody you may want to shut them up. Even if their information could be valid, entertaining them on a regular basis takes up time, takes focus off your job and might harm your reputation.
Heard It Through the Grapevine – Workplace Gossip Topics
Most gossip topics relate to information about upper management, speculation about company happenings, employment status and other coworkers. Generally, gossiping about coworkers is the worst because it can lead to hurt feelings, lies being spread and can ruin careers. Gossiping about upper management can be cathartic, but if you get caught it may harm your reputation. Gossip about company policy or operations usually happens when companies aren't forthcoming with information. Companies with closed-mouth cultures tend to have gossip problems that could be squashed by keeping their employees better informed.
Zip It — How to Stop Unwanted Gossip
Steer all conversations to job-related tasks.
Talk to the gossip in a nice way — about how gossip makes you feel uncomfortable.
Say you're only comfortable talking about people when they are present.
Tell the gossip that you'll verify their information with the person being discussed and that you'll credit them as the source.
Prevent gossips from talking about you by being honest and forthright to them and other coworkers.
Tell the gossip that their behavior is affecting you and you'll have to alert management if it doesn't stop.
As a last resort, tell your manager about the problem.
When you're a hard worker and keep your nose clean, you may earn a little gossip leeway. You'll still hear some of what's on people's minds, which can help develop work relationships, but essentially you'll want to create boundaries that keep you out of the gossip zone. Focusing on your work and career doesn't leave a lot of time for flapping your gums – it will serve you better by keeping your eye on the prize.