CareerBliss has salary info, hundreds of thousands of company reviews and millions of jobs!
---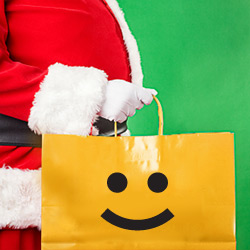 Employers will hire up to 700,000 people during the holidays, according to a forecast by outplacement firm Challenger, Gray & Christmas. That's more seasonal jobs than last year, but not all that many – so the seasonal job market will likely shape up to be just as competitive as last year.
Looking to score a holiday job? Check out resources:
5 Tips for Getting a Seasonal Job
Turn that Seasonal Gig Into a Full-time Job
Five major retailers have announced how many people they plan to hire this holiday season. Check out the numbers below, along with each company's CareerBliss happiness rating -- a job satisfaction score based on factors, such as compensation, growth opportunities and management -- and company pros and cons from reviews submitted by employees.
1. Target plans to hire up to 90,000 seasonal workers.
BlissScore: 3.4
Employees say …
"The working environment is very team-focused, which I feel is important to accomplishing any task." – Target employee
"Management made you do things in a silly way, just because they wanted it done that way. It was not faster, nor more efficient they just wanted show who was boss.– Target stock room specialist
"I really like the work environment the company culture as well." – Target cashier trainer
"Competitive culture. Always being evaluated and assessed. Can't be my true self." – Target employee
2. Khol's announced it will hire 58,000.
BlissScore: 3.35
Employees say …
"I like working at Kohl's meeting new people all the time -- especially during the holidays" – Kohl's customer service employee
"I work very hard for Kohl's but there is little to no appreciation for it and it makes me question why I work hard at all." – Kohl's cashier
"I am allowed to work unsupervised, having proven myself to be a dependable employee." – Kohl's sales associate
"The pay is awful." – Kohl's cashier
3. WalMart announced it will hire 50,000.
BlissScore: 3.34
Employees say …
"One thing that I enjoyed most about working at WalMart is that there is room for growth and opportunities within the company. Also meeting new people and working with a team of people that is like family." – WalMart stock clerk
"It is boring work. It is not mentally stimulating. It can be a challenge as far as stressful situations go." – WalMart associate
"I like the fact that there is always work to be done. I never have to wonder what I am going to do or look for extra work." – WalMart employee
"Let people do their jobs. Most people there are hardworking and want to do a good job but, they get beat up so bad they get to the point they just don't care." – WalMart assistant manager
4. Toys R Us announced it will hire 45,000.
BlissScore: 3.48
Employees say …
"I love interacting with the customers and the children. The highlight of my day is when I help a child or parent find exactly what they were looking for." – Toys R Us cashier
"The employees were always look down upon and never thanked if the company did well." – Toys R Us sales associate
"I enjoyed the fast pace of the holidays. I also enjoyed helping children find what they wanted. It was truly a place where you could feel like a kid." – Toys R Us employee
"[There was a] lack of fulltime opportunities available for new employees."  -- Toys R Us customer service representative
5. Amazon announced it will hire 5,000.
BlissScore: 3.63
Employees say …
"I liked all of the hours they gave me, and the opportunity to work overtime." – Amazon warehouse teal leader
"Management did not seem to have any grasp of reality or experience. Saying it was mismanaged is putting it lightly." – Amazon employee
"Very friendly environment and safe place to work." – Amazon warehouse receiver
"The hourly people were not treated well." – Amazon area manager, packing and shipping
Guest posts make us happy! Want to contribute to CareerBliss? Check out our submission guidelines.