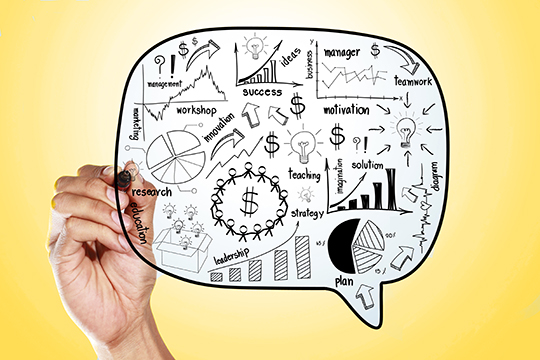 Whether it's a brand new job or annual review, if you know you deserve more compensation, then the three key phrases listed below can help you get it! We know it can be nerve-wracking – but realize that—in your boss' world—salary negotiations are as common as taxes.
"Some companies always start low and then negotiate," says Arlene Vernon, strategic consultant. "Others only offer within the candidate's asking range. For example, we can afford to pay $50,000 for the position, but the candidate asked for $45,000 - so why not hire at a bargain?"
For you, talented candidates—the better question is: Why leave $5,000 on the table? To help you get every dime you deserve, we dug deep into salary research to scope out the top three most valuable phrases that you need to arm yourself with before you sit at the negotiation table. Here they are!
1. "Hmmm…What is the salary range you have available for this role?"
This is one way to get employers or recruiters to tell you their range first. By asking this question, you're better set up to negotiate for the higher end of the range.
Again, some managers leave a little wiggle room for negotiation. For instance, "our wiggle room is not so dramatic, but it's flexible enough to ensure a win-win for both the candidate and the company," says Ken Kilpatrick, president of Sylvia Marketing.

If it's down to the wire, and it's time for you to name your number, this phrase is essential for highly competitive candidates. Aim high. Use big anchors with very specific numbers (avoiding zeros). Research your salary thoroughly. Then, ask for just a hint little more. This way, when they negotiate down, you're still in your personal ideal range (which they don't need to know!).
Bonus Tip: New research from The Columbia Business School found that "using more precise numbers in an initial request—or anchor, as it is known in negotiating parlance—generally results in higher final settlement." For instance, $74,580 is a much better bet than $75,000.
2. "As you can see from my achievements listed here…"
According to a recent study on raises by Science Direct, most raises are given to "retain talent"…not reward talent. Chances are, with so many deadlines, budgets, pressures and employees, your boss probably doesn't have all of your awesome achievements memorized.
So, remind him just how talented you are. Present a case that your boss simply can't deny.
"Depending on your field, these can be projects pushed forward, a portfolio of work completed, or clients landed. Highlight ways you made and saved the company money," says Sean Blanda of 99u, a productivity website in a blog post.
Also, another big achievement that many candidate negotiators overlook is culture fit. How well do you understand the company's values? How passionate are you to align your goals with that of the company? Pointing a big arrow to the intangible cultural fit is more valuable than you might realize! It's hard to find someone who's not only qualified but also fits well with the company's culture as well. So hard that it would be more costly to find someone new than to give you a raise! Win-win!
Some bonus phrases to help you gain leverage:

"My achievements and cultural fit place me in the higher end of that salary range."

"Based on my research and achievements…."

"From my understanding, my level of responsibility now warrants this salary range."
3.  'Can we revisit my compensation package in 90 days?'
For managers and recruiters, there's a huge risk that you might leave in the first 90 days. If this happens, recruiters don't get commissioned and hiring managers have to restart their whole, brutally costly hiring process.
You can help ease their fears by suggesting to revisit your package in three months—once you've proven you aren't a "wrong hire."
Remember: Three months is generally enough time to get your feet wet and actually start contributing and helping the company. So, even if your boss is refusing to budge on your salary right now—the difference you make in three months can be enough to convince her to boost your money package.
If you go above and beyond, show how great of a cultural fit you are and—essentially—blow them away with your ideas, you're worth way more than the market value!
More on Blissful Salary Negotiations: