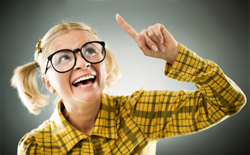 Everybody likes a good acronym, right?
There's T.G.I.F., R.O.Y.G.B.I.V., not to mention the good ol' U.S.A.
Ask a resume writer what their favorite acronym is, and it's probably  K.I.S.S.
K.I.S.S. stands for Keep It Simple, Stupid – and it's one of my favorite phrases. Simplicity is key when it comes to writing a top-notch resume, and for good reason.
Why should I keep my resume simple?
If you need substantiating evidence to back my advice up, here it is: simple gets read.
It's as simple as that. Simple writing anywhere gets more readers and, even better, more readers who get the point. Isn't that what we all want?
Think about it: when you're driving past a bank of billboards, what stands out the most to you? The fast-food board that has a handful of words and a giant burger or the bank board that has a full-on paragraph and a more abstract image? The more memorable board is the fast food one – after all, it was simple.
When an employer spends just about 30 seconds (if you're lucky) perusing the likes of your resume, simplicity is key.
How can I keep my resume simple?
Load your bullets: I don't have to tell you that bullet points have been the tried and true formatting device since the dawn of the resume. The epitome of simple, bullet points kind of shout out "Hey! Look at me!" to the reader.
In your resume, use bullet points instead of paragraphs. The best bullets are grouped in threes and are typically no more than one or two sentences. Kick your resume off with a verb and you can get your point across even sooner.
Head back to junior year:  Our research has proven that the ideal writing level for a successful resume is right around 11th grade. This writing style is to the point, persuasive, and has a solid command of the English language.
Less is more: A common mistake many job seekers make is feeling the need to write every tiny detail about their working lives on their resume. While you might see this as a comprehensive approach, it's more likely an irritating one to those who have to read it.
You're far better off establishing the points you find most important and communicating them effectively. After all, if you want to get A, B, and C across to your dream boss, don't clog up your resume with D through Z.