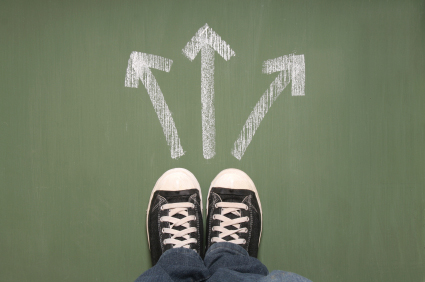 Many of the greatest highfliers (Warren Buffet and the late Steve Jobs, for example) have rallied behind the idea that, in order to lead a satisfying life, your occupation must be something you absolutely love.
You must follow your passion to be happy, they say.
"If you haven't found it yet, keep looking.  Don't settle," Jobs said in a 2005 commencement address at Stanford University.
That advice, however, tends to oversimplify: Follow your passion, and you will be happy. There are plenty of instances in which following one's passion (as a career) leads to unhappiness. And for many people, having the job they love allows them to follow their passion outside of work.
It's all about balance.
If you're lucky enough to be super passionate and dedicated to something – and you can find a way to get someone to pay you for it – congratulations! However, there are plenty of things to consider before you go for the pie in the sky.
1. When You Have to Sacrifice More Than You're Willing
Steve Langerud, counselor and director of professional opportunities at DePauw University, has a passion for bicycles -- so he bought a bicycle company!
"You would think this would be put me in bliss," he says, "well, I learned that I love bicycles, but only a very small niche. The bigger picture of dealing with customers, insurance, vendors was far more important to making that business succeed than my simple love of bicycles."
Although this experience gave Langerud some valuable skills that he uses to this day, he advises you to ask yourself: Will living your passion through a job enhance or detract from from that passion?
Think holistically. If pursuing your passion also means giving up some things that are super important to you (stability, location, a cushy lifestyle), then you might be unhappy in the long run.
2. When Your Passion is Not Very Feasible 
The future is unknown, says Adrian McIntyre, professor at the University of California, Berkeley.
"At the same time," he says, "blindly following a passion to the bitter end has led many artists, inventors, activists and entrepreneurs to lonely, destitute endings!"
Realistically, will your passion bring home the bacon? This is an essential question to explore before you launch headlong into the pursuit of your dream.
It's important to be open-minded about your passion. It might evolve. Change direction slightly. Hone your skills, put in the hours and talk to people who have accomplished what you want to do in order to determine whether or not your passion will be able to sustain the lifestyle you want.
"So by all means stay foolish, as Steve Jobs famously advised," McIntyre says," just don't be stupid about it.
3. When You Stumble Upon Something Even Better!
Cal Newport, assistant professor at Georgetown University and the author of Be So Good They Can't ignore You, has researched, written and talked extensively on how you don't necessarily need to follow some sort of pre-existing passion in order to be truly happy at work.
In fact, he argues in his book that, technically, Jobs didn't exactly follow his passion initially.
"Unlike other technology visionaries of his era, Jobs wasn't particularly interested in either business or electronics as a student. He instead studied Western history and dance, and dabbled in Eastern mysticism," Newport says in his book Be So Good They Can't Ignore You.
Apparently, had he taken his own advice early on, he might have become one of Los Altos Zen Center's most popular teachers!
Jobs actually didn't know that he was passionate about technology until after he took up a few tech jobs for some quick cash, Newport says in his book. The more he honed his skills, the more success he bred—which led to his eventual passion for innovation. How serendipitous!
Turns out, he was following a much broader passion for challenge, which yielded a squiggly, unorthodox path to what was eventually his legacy as an entrepreneur and visionary.