If Mark Zuckerberg's very own sister Randi Zuckerberg was confused about her Facebook privacy setting after Facebook rolled out its latest privacy update, no one is safe!
Job seekers: you especially need to protect yourself. Cleaning up your online identity should be a given considering most, if not all, hiring managers will do a cursory Google search before bringing you in for an interview.
The new Facebook update bears good news and bad news.
The bad news: Facebook no longer allows you to become unsearchable from the web's search engines. The good news: Facebook included privacy controls that can actually give you a heavier hand in regulating what others see.
Here are three important features you need to know to take to make sure that you keep your personal Facebook account completely private and concealed from potential employers:
1. Brand New Privacy Shortcuts
The biggest change in privacy of all is the new privacy shortcuts easily found next to the Home icon on the top right corner of your account.
By clicking each of the shortcuts, like "Who can see my stuff?" you can immediately change who sees your future posts, quickly link to your Activity Log to review past posts and tags and click "View As" to see how other people see your timeline.
While it's great that these important icons are more readily accessible, you can't rely solely on these shortcuts to privatize your entire profile. These are just the basics.
Your photos, for instance, are a whole another ball game.
Personally, I think privatizing your photos is the messiest part of this whole ordeal. There's really no giant lever to privatize ALL your tagged photos at once. Follow these steps to control who sees the posts you've been tagged in.
2. Limit The Audience for Old Posts on Your Timeline

If you go to your Privacy Settings and Tools, you have the option to "Limit Old Posts." This will automatically change the privacy setting for all your old posts (including photos) and limit them to just your friends. Warning: you can't undo this in one fell swoop. If, for some reason, you change your mind, you'll have to change the privacy individually.
3. Tagged in an Inappropriate Photo? Report It
At the bottom right corner of each photo, the "Options" button produces a drop down menu that enables you to "Report/Remove Tag" the photo.  After you click "Report/Remove Tag" Facebook prompts you to choose one or more of the following: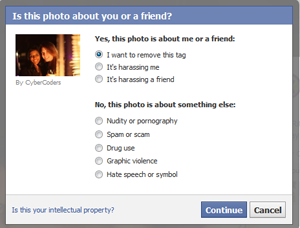 This should send a message to Facebook than an anonymous user has asked to flag and review the photo. If it violated community standards, then Facebook will take it down. You can also choose to "quietly cut ties with or hide people, pages and apps that offend you," according to the Facebook privacy guide.
It's worth noting that Facebook is now also cracking down on intellectual property violaters. So, if you choose to create a professional Facebook account specifically for your portfolio, business or professional networking, you can share your work with a little more peace of mind.
4. Appearing in Search Engine Results
While you can no longer completely zap yourself from the search engines of the Interwebs, you can prevent other search engines from linking to your timeline. You can do this by clicking the Privacy Settings icon in the upper-right corner of your Facebook page > Do you want other search engines to link to your timeline? and make sure you choose 'no.'
Note: Your name, profile picture (at least the mini avatar), cover photo, gender, username, user ID (account number), and networks will always be fair game and fully public (learn why) in search engines. They say it's because the whole point of Facebook is to help people connect. I guess you can't do that if you are MIA from the web.
As long as you hide all your personal posts, this basic search result shouldn't affect your online identity to potential employers. 
5. Control Each Post
After you privatize your posts retroactively, use the feature that lets you approve posts before they are published on your timeline using this guide.
Also, get in the habit of controlling everything you share from now on.
Facebook added a privacy control button at the bottom of each brand new update for each individual post! You should know exactly who can see each of your update before you hit "post!"  And if you have like a thousand friends, start using the Lists for Friends feature to organize your friends.
So, if you want to share this funny meme—you might want to create a list that excludes not only colleagues but also any friends who are mutual friends with your colleagues!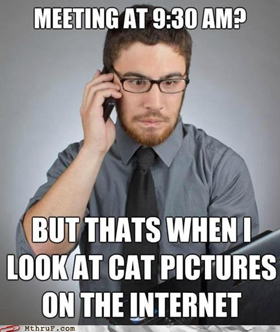 Tedious, I know. But it's worth avoiding the risk of an unprofessional online identity.