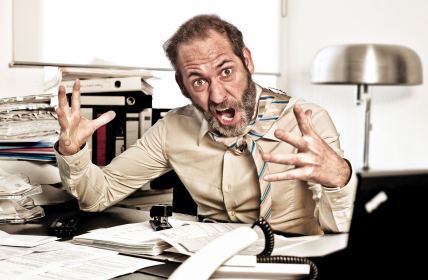 To ace a project, you need a killer game plan. This is where CareerBliss comes in. In order to help you tackle your next project, we talked to a few project management experts about the core, knock-'em-dead concepts behind their most successful projects.
One thing nearly all experts agree on is just how important it is to maintain a focus on the bigger picture. Looking at your project (however big or small) as part of a larger organizational goal will boost motivation and efficiency, says Jeff Kear, owner of business and project management software company Planning Pod.
"When people know what they are working towards and they can identify how their contribution fits into the big picture, they feel more engaged and inspired, which can measurably move the project forward," Kear says.
But there's a little more to it than that. Here's a step-by-step guide on achieving a successful project from start to finish:
Approaching the Project
1. Identify the Problem or Opportunity
"Every project starts with a vision," says Robert Kelly, certified project manager (PMP) and managing partner of Kelly Solutions. "This is what will get others on board and keep folks motivated throughout."
What exactly is the vision? It's a picture of what you want the final product to look like.
"A good project plan will always work backwards from the end product," says Victoria Brouhard, an entrepreneurial and productivity coach.
2. Does it Make Business Sense?
Kelly suggests some key questions to consider before diving into the project: "How much of
an opportunity is this or how much money might you save," he says, "then identify the costs required to complete it (people, equipment, etc.)."
3.  Create Criteria for Success
A recent article by Ilya Pozin, founder of digital marketing agency Ciplex, in Inc. talks about six criteria that define a successful project.  He makes a great point: everyone, including the uppers, has a different idea of what "success" means, and if all the key players aren't on board on the same ship, your project is doomed to sink.
So, before the project, get together and establish: a schedule (more on that in No. 5), the scope of the project (or what you need to get done), the budget, team satisfaction, customer satisfaction and quality of work.
Of course, you might need to tweak the criteria here and there, depending on your project and your definition of success.
4. Split up the Project into Digestible Pieces
When it comes to deadlines, setting your sights high is awesome. But all too often, people forget that creating unrealistic deadlines can actually be more harmful than ambitious. If you try and squeeze a huge task into too small a window of time, you might rush yourself right into poor quality work.
Also, "large projects can often seem overwhelming; and when people are overwhelmed, procrastination is a common response," Timothy G. Wiedman, D.B.A. Assistant Professor of Management & Human Resources at Doane College.
5. Leave Plenty of Wiggle Room
Raz Silberman, corporate development officer at Genesis, says that most people commonly include a contingency in each phase of the project.
Sound familiar?
However, "the right way to do it is to take the contingency out of each tasks and put a contingency for the whole project that can then be used where needed," Silberman says. So, set a manageable deadline for the entire project, with plenty of breathing room overall.
Carrying out the Project
6. Work According to Style
Take action based on your brain type and personality, says organizing and productivity expert Helene Segura.
"If you're a sprinter, work a little each day," Segura says. "If you're a marathoner block off longer periods of time on the weekend or whenever you have open slots."
Kear agrees and says the same goes for your team:  It's up to you to identify and plan for individual strengths and weaknesses.
"For example, you may have a team member who you know is very thorough and a perfectionist; you know their work product will be stellar, but it will also be turned in late because they require more time."
7. Stay Vigilant
When asked "What do you feel is the greatest contributor to projects falling off the rails or losing their way" in a recent #PMChat (Twitter Chat), Taralyn Frasqueri-Molina, project manager at the Walt Disney Animation Studios, said "sometimes it's thinking that starting off well means the whole project will go smoothly," she says, "you always have to be vigilant."
This means, staying positive when plans change and always looking for alternative solutions. Adapt  no matter what comes your way.
8. Communicate through Regular 'Brain Dumps'
Communicating the progress of each step to members of your project is another huge key to success. Kelly Azevedo, founder of business consultant company She's Got Systems, suggests "doing a regular brain dump and scheduling regular team calls throughout the project."
In other words, get together with the folks on board and unload your issues to hammer out any problems and progress. This will give your team an opportunity to work through problems together.
Final Steps
9. Measure your Success
Good news! This part's easy because you already set your criteria way back in step three. Now, all you have to do is review and determine whether or not you successfully met each criterion.
10. Reflect on your Work At the end of each work session, Segura suggests you celebrate what you've accomplished.  After you've dances around a little, she suggests you ask yourself these kinds of questions:
Which of your methods worked?
Which need to be improved upon?
What are the next steps – continued work or maintenance?"
Check out Ritika's list of project management experts to follow on Twitter.