CareerBliss has salary info, hundreds of thousands of company reviews and millions of jobs!
---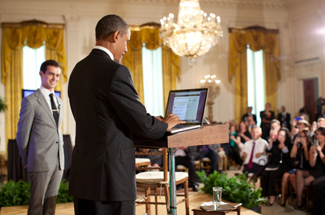 There are a few lessons every job seeker employing the social job search can learn from President Barack Obama about building and selling a brand promise through social media.
Armed with an unrelenting message and high expectations, Barack Obama took to the campaign trail in 2008 embracing social media as a fundraising tool, platform to engage supporters and a tool to share his message. The results of this thorough
social media
strategy: $600 million in funds raised, a real-time list of supporters complete with contact information, and a new mega-job in the form of a presidential title.  
November 2012 elections are quickly approaching -- and according to a study by Pew Research Center, Obama's use of social networking continues to be a promising method of reaching constituents directly.
Here's how you too can successfully sell your personal brand during the social job search!
Pick a Target Audience: Imagine what the election outcome might have been had Obama blasted his campaign messages and calls to action to anyone and everyone instead of constituents that were somehow connected to his platform. Unfortunately, many job seekers don't strategically target potential employers--they instead blast companies unsolicited or generic cover letters. Companies you connect with online during your social media search must align with your career goals, work experience, and areas of expertise.
Stick to the Script: One of the hallmarks of Obama's initial campaign was the "change" theme that echoed in every speech and outgoing message across platforms. Consider the job hunt your personal campaign for office. Pick an objective and craft a message (your platform) that will resonate with your audience of recruiters and hiring managers at companies you've targeted based on your social network connections. Keep your core message a part of all communications, be it a LinkedIn invite, email communication, or social media mention.
Go Social, Go Direct: Social media lets you get about as close as you can to your audience without knocking directly on their front doors. Obama's direct requests for campaign contributions should serve as your example. When connecting with potential employers during your social job search, be direct about the outcome you're expecting. Subtlety should be practiced, but you must go with a direct-request approach versus hinting and asking closed-ended questions.
While there's no telling what the outcome of the upcoming elections will be, there's a valuable lesson to be learned from President Obama's social media efforts up until now. When your job search key messages, target audiences, and goals are clearly defined your chances of being well-received by prospective employers grow notably!
Pure Marketing (Hype But No Substance) Can Take You Only So Far: Having a large LinkedIn network or numerous Twitter followers can look good, but a social-savvy recruiter may catch you if they are false. Numerous tools exist to "build your Twitter followers," but these followers are usually fake or inactive accounts. Recently, President Obama came under fire by having millions of fake Twitter followers. It's always best to build your brand and following organically and with substance.