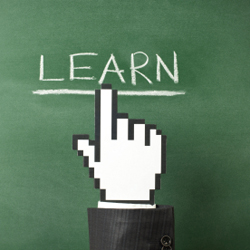 Hiring managers' view of online education has "tremendously improved over the years," says Mike Barefoot, senior account executive at Red Zone Resources. Nonetheless, online schools still play second fiddle to traditional, more established institutions of higher learning.
"Let's be honest. A degree from [an online university] will not hold the same positive perception that a degree from a major university will hold," says Jeff Gordon, founder of education blog IWantAnEducation.com, at least right now.
Some employers, like Robby Slaughter, principal at AccelaWork, raise an eyebrow at the validity of online degrees.
"A degree is supposed to certify that one has specific knowledge, skills and a proficiency in critical thinking," he says, "this seems difficult to claim without direct access to students."
Still, Slaughter adds, times are changing and technology is improving.
While degrees from online schools have yet to attain the credibility of those from brick and mortar schools, they can still be worth it. But not all online degrees are valued equally. Here's what you need to know to decide if a virtual education is the right path for you:
Online Degree Alone Won't Cut It
For employers, it's all about what you can bring to the table. Unfortunately, if a virtual degree is the most substantial item you can bring, then your chances of landing the job are significantly low.
"If you already have experience and go back for an additional degree then it can be a big supplement," Gordon says, "the key is experience."
The bottom line is you can't expect to complete an online degree and hope to land a job overnight (tough love!). Industry experience goes with virtual-degree holders like peanut goes with butter.
Distance Learning is Ideal for Working Folks
"Some programs are great for working students who don't want to lose career momentum or those who can't relocate due to family or personal commitments," Barefoot says.
Gordon would agree and says online degrees are a great option for you if you're busy, short on cash and really need a degree. "Obtaining that online degree is worth it and still much better than the alternative," Gordon says.
Keep in mind, employers want to know what you can do (not to beat a dead horse). So, if you're looking to simply quench your thirst of learning, adding more skills to your resume and aren't interested in earning a full degree, "free courses through programs like OpenCourseware and Academic Earth tend to have the most impressive content, although these resources do not result in a degree," Slaughter reminds us.
For a full-listing of free online courses (without a degree program), check out this amazingly comprehensive list of 500 universities that offer free online courses via Open Culture.
For-Profit vs. Non-Profit
If you're set on earning a degree online, you must choose between two types of institutions: non-profit and for-profit. Above all -- make sure that your online school is regionally accredited to ensure your credits will count. Dig a little deeper and check out Guide to Online Schools, which exclusively ranks and reviews accredited online schools only.
Simply put, for-profit universities are profit-driven, like Pheonix, Everest, Westech, Kaplan and Devry.
Non-profit online schools are government-funded and usually state universities, like Iowa Central College, University of Houston and State University of New York. Note: some non-profit online schools are nationwide as well, like Western Governors University (researching is no joke when it comes to choosing an online degree!).
Usually, non-profit schools have a decent number of programs, but they are not as robust as for-profit online universities. But if a non-profit university does offer your desired degree, the tuition costs are usually much more affordable than for-profit education institutions.
Now let's talk about for-profit universities -- it's a bit more complicated. There are a lot of factors to consider when deciding on a for-profit university. Choosing whether or not it's right for you is no piece of pie! Check out this pro and con breakdown:
A Look at For-Profit Online Degree Institutions:
*A survey by Guide to Online Schools (which offers reviews for accredited online universities) recently asked online students to rate how they feel about the value of their degree on a scale of 1-5, 1 being a rip-off and 5 being a good investment. The study was out of 1,500 reviews.