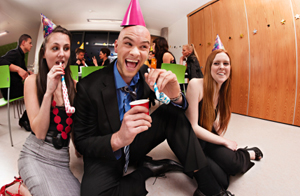 You spend at least 40 hours a week at work, so you definitely want to fit in. Each company has a set of values and behaviors that make up their corporate culture. The optimum situation is to find a company culture where you feel comfortable and can thrive.
Are We a Match Made in Heaven?
People with varied backgrounds and experiences make up an office culture. There's usually room for many types of people to be part of the mix, but not everyone can be a good fit.Companies with strong cultures are the easiest to assess during the interview process but you can get a sense of any company's culture. Look for clues to the work culture including:
How people dress
Whether personal cubicles and offices are decorated or not
If the company's mission, values and history are posted
Whether people are working quietly or milling about
If people seem friendly or stressed
Ask about the corporate culture in the interview. It will be interesting to see if the interviewer's perspective matches your observations. Check out the company's website for press releases, marketing materials and other company-generated information to see how the company portrays itself. Also, gain independent insights on the company by using search engines, forums and career review sites (like CareerBliss!). If you see red flags, look for another company. If it looks like a fit, join the team.
Getting to Know You
Once you begin your job, you'll have a more intimate knowledge of the company culture as well as the work culture of your department. Notice whether work hours are strictly adhered to. See if people go out to lunch everyday or take it at their desks. Learn the language and the acronyms. Discover how employees work with each other and whether there are team meetings for every task or if everyone works independently. Decide if coworkers are committed or at their jobs for the paycheck. Find a buddy that will help show you the ropes.
Navigate office politics by being friendly, helpful, competent and having a can-do attitude. If there are team lunches or happy hours, you may want to attend to get to know your coworkers.
Give it a few months and ask yourself, "Do I like it here?" If you do, congratulations, you've made a match.
Uh Oh! This Isn't What I Expected
Things could look good on the outside but once you get into a company you may find that you're not a fit for the work culture. Even if the company culture isn't what you expected, you may be able to adjust and adapt to this new work place. Here are a few tips:
Find the positive aspects of working at this company and focus on those — but be true to yourself and don't change who you are.
Ignore the company culture and focus on the job itself and the career benefits such as compensation, rewards and perks, work experience, new skills, company reputation, etc.
Be okay not fitting in for now — this job doesn't have to be long term but try your best for the time that you're there.
Each job can teach something you didn't expect to learn. In the case of a bad fit, you can focus on your attitude, social skills and, sometimes, acting skills, which will serve you well in your next job.
I Gotta Break Up
If you feel uncomfortable to the point you can't drag yourself to work everyday or you constantly feel stress and friction, start looking for another job.
Avoid lofty illusions that you can change the company culture. You may be awesome and powerful, but odds are against you — the new person — being able to shift the whole corporate culture while doing the job you were hired to do.Don't feel bad about not fitting in and don't bad-mouth the company. In most cases, corporate culture is based on preference. It just wasn't right for you. This experience will help you better assess the corporate culture of the next company.