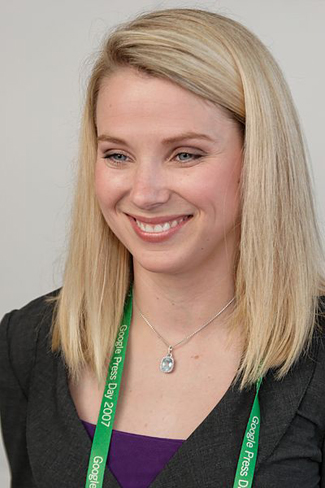 Marissa Mayer, Yahoo's newest CEO, did the seemingly impossible: she circumvented pregnancy discrimination.
Mayer disclosed her pregnancy to the Yahoo CEO Search committee last month — around the same time they approached her for the job, according to MSNBC. And apparently, they didn't even give her pregnancy and maternity leave a second thought!
This wasn't just luck. Her outstanding accomplishments as Google's 20th employee put her as a frontrunner for the job. So the search committee considered Mayer's pregnancy as less of a hurdle (as many do) and more of a small puddle to step over.
Of course, Mayer's high-profile career isn't exactly the norm for the rest of us.
Realistically, most pregnant women who want to work are competing with a handful of qualified, non-pregnant applicants. So unless you're approached for a job Like Mayer, there are two ways to handle this – and each has a downside:
Option 1:  Wait for the Offer Before Mentioning your Pregnancy
Alison Green, career and management advice columnist at Ask a Manager, suggests not raising your pregnancy until you get an offer "because even at many family-friendly places, and even despite the law that prohibits discriminating based on pregnancy, plenty of interviewers are still going to think, 'We have that big event right when she'll be out on maternity leave, and candidate B, who is not pregnant, would be able to be there for it,' " she says.
If you tell them you're pregnant (preferably in writing) when the offer is on the table, they are less likely to change their minds—at this point, "rescinding it would look an awful lot like pregnancy discrimination, which is prohibited by law," Green says.
The downside: Dropping the pregnancy bomb after an offer has been made could hinder trust with your brand new colleagues.
Option 2: Tell Them Early in the Interview Process (Before the Offer)
CEO of Mom Corps Allison O'Kelly says it's important to allow enough time for the potential employer to like you first — but you shouldn't wait until you're too far in the process.
"There's a fine line between misleading the situation and waiting for the right moment to break the news," O'Kelly says. The right moment, according to her, is right after the initial interview (both phone screening and round 1, if possible).
CEO of Great on the Job Jodi Glickman (who graciously returned our call during her maternity leave!) agrees and says the earlier on the better because waiting until the offer can "set you up for a bad start," and "the longer you hide something, the longer it becomes an issue."
The downside: Telling your boss early on on in the process makes it easier for your boss to turn you down because of your pregnancy – with little evidence to prove pregnancy discrimination.
Regardless Which Option you Choose…
"You have the responsibility to tell them you're pregnant and tell them how you'd work around it," Glickman says.
For instance, Mayer clearly told the press that she will be taking maternity leave for a few weeks while working throughout it. (Now, that's determination!). Lay out your game plan and refer to the company's maternity guidelines, O'Kelly says.
"If you are upfront and plan with the employer, there's no reason that having children should derail your career," she says.
CareerBliss Community, have you or someone you know experience pregnancy discrimination?
Photo courtesy of Christoph Dernbach, Wikimedia Commons