Managers, if one of your talented team members recently announced her resignation, you may want to take a look at a recent LinkedIn survey that reveals why most professionals are leaving their companies.
As the largest professional social network (250 million folks to be exact), LinkedIn has some interesting insight into how often people change jobs and why they do so.
Recently, LinkedIn analysts surveyed over 7,530 members and found that folks say they would leave their company given the "right compensation and benefits."
However, when asked professionals who have specifically changed their jobs recently, they said "three times as many employees cited 'lack of advancement opportunities' over 'poor relationship with supervisor' as their top reason for changing employers, according to the Washington Post. And better compensation and benefits came in third as the most popular reasons they were compelled to change jobs.
Here's the relevant portion of the infographic that conveys their findings, which was first published on the
LinkedIn Talent Blog
.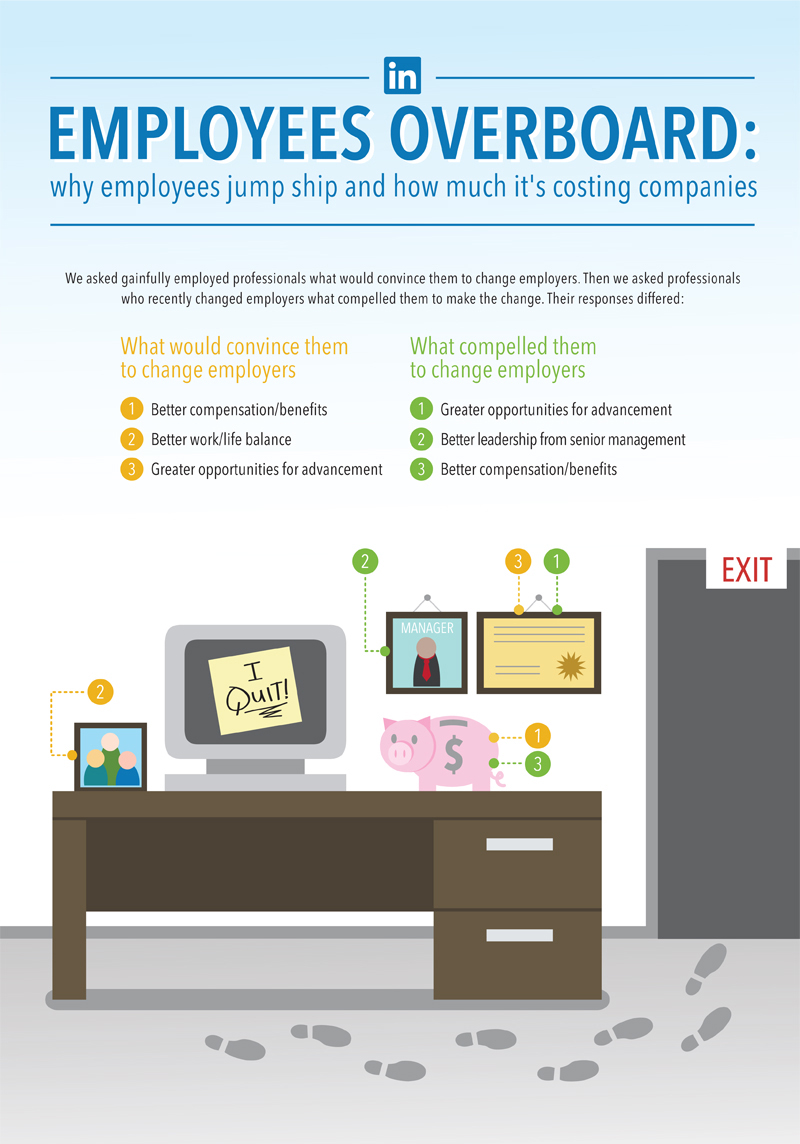 And this turnover is preventable!
Managers, shedding light on any opportunities of growth that you can offer internally can help you retain some of your top talent. At least that's what LinkedIn has found. 
LinkedIn created this chart to show how much of a miscommunication there is between HR and employees when it comes to internal mobility and growth programs.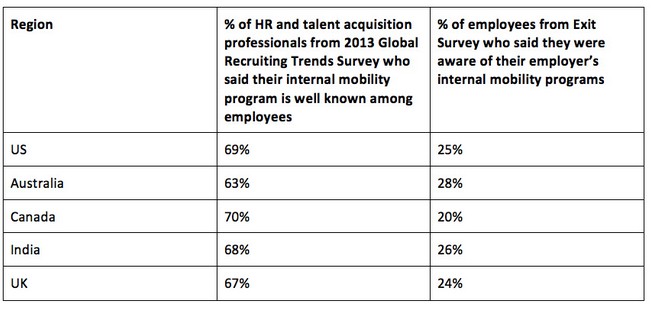 "People need to know that their career development and growth are valued as much as, if not more than, hiring external people," Phil Hendrickson, Starbucks' manager of global talent sourcing strategy told LinkedIn. "That's because you solve three things at once when you hire someone internally — you fill a role, you retain a good employee and you improve your talent brand."
Hendrickson makes some great points, you have to admit.
This is, of course easier said than done.
There are a plethora of ways to internally market and promote opportunities for growth. Whether it's publicizing cross-departmental moves, recognizing promotions company-wide or attending team conferences—taking small steps to bridge the gap between HR and professionals that's articulated in the chart can go a long way.
Brendan Browne, LinkedIn's director of talent acquisition, says "Incorporate the internal mobility program into your new hire onboarding process. Employers can emphasize that the company's commitment to advancing the employees' career doesn't end with their hires."
Managers, if you'd like to gauge the happiness of your team, refer to CareerBliss reviews written by real anonymous employees. Search for your company and you can see how folks feel about the key factors of employee happiness (including opportunity for growth and compensation, as highlighted in the LinkedIn study).