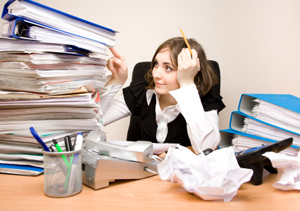 When your manager says, "Jump," you ask, "How high?" and then perform as requested. Once you've shown that you can accomplish everything that is thrown at you, count on the fact that more work will come your way.
Facing tough challenges and achieving impossible goals is fun for the self-esteem and will set you up as a valuable employer at your job, but can you keep doing that month after month?
Set yourself up for success and avoid feeling as if management is trying to suck the life out of you by being aware of your company's big picture goals. Successful companies set aggressive goals because they want to maintain their edge. Understanding the importance of what you're doing will help you prioritize your expanding workload.
Ridiculous expectations can lead to excessive stress and low morale. When your workload negatively affects your health or personal life, ask yourself why. Is it that you're getting burned out, that the company's goals are impossible, that you're buying into other coworkers anxieties or that you need to focus and work more efficiently?
Tick Tock – Time Management
To be a high achiever, time management and organization are crucial. You can't spend every second of every day performing at 100% so be realistic about how you allot time. Get in the zone to do the heavy thinking then take a break. Most projects require some menial brainpower tasks, fit in those when you're spent. Organize your workload to accommodate deadlines and your energy fluctuations throughout the day. Before you leave work, put together a realistic to-do list of what you need to accomplish the following day.
Don't Bottle It In – Communicate
Give up being a perfectionist and just do the best you can based on your talent and ability as well as the project's deadline and resources. Communicate regularly with your manager; work as independently as you can, but alert your boss to obstacles and ask for help when needed.
If you have a team working with you, be the type of manager you would appreciate and motivate colleagues by keeping them informed about why the project is important and providing them with tools to get the job done.
Help Wanted! Evaluate Your Resources
Your company absolutely wants to squeeze all the productivity they can out of you, but you won't be doing them any favors if you leave or self destruct. Be realistic about how hard you're working and how much you can accomplish. Work on improving your skills and show your manager that you're eager to perform. If the workload gets to be too much, ask about hiring more people, bringing in interns or putting the least important projects on junior members of the team or other departments.
Even when you feel stress trying to keep your hamster wheel turning faster and faster, the only expectation you or anyone else should have of you is that you do your best.