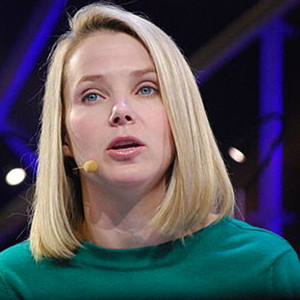 Mayer's policy on sending work-from-homers back to the office is not an attack on telecommuting itself. While the freedom to work from home can be productive, it's not working for Yahoo, specifically.
This point seems to be getting lost in the sea of media coverage since her internal memo was first leaked.
Yahoo's company culture has been disorganized for a long time (e.g. the infamous "five CEOs in five years" sound bite). With a history of lackluster, inconsistent leadership, Yahoo has experienced some gaping holes in its cultural foundation over the years.
Bringing everyone in the same building—on the same page—is one important way that Mayer is attempting to bridge a gaping cultural hole.
Sure, this kind of drastic change warrants Yahoos to feel a little shock at first – but this is exactly the kind of shakeup that Yahoo's company culture needs to restructure and reinvent itself. Here's how Mayer's latest telecommuting policy will reshape Yahoo's culture for the better:
Nothing Beats Face-to-Face Collaboration  
Let's face it (pun intended): "When people are not at work, no matter how good the technology is, they are less influential on the culture, they are not likely to be tagged for promotion and they will not have as close relationships with their supervisors or coworkers," says Brad Brummel, a Ph.D. in workplace psychology and CareerBliss advisors.
In fact, Brummel considers you look at it this way: "People working from home are almost independent contractors who do work that are outsourced to them."  There is a both physical and cultural divide between the home and office.
While virtual technology is making it easier to be productive while working from home, it still does not replace the collaborative, inclusive company culture that Mayer is trying to create.
To Be Clear: Mayer is Not Nixing All Flexibility  
"And, for the rest of us who occasionally have to stay home for the cable guy, please use your best judgment in the spirit of collaboration," says a Yahoo memo outlining the change.
Meaning, Mayer is—by no means—creating a tyranny here. This mandate exclusively impacts folks who have fulltime work-from-home arrangements. This does not mean no Yahoo employee can ever login from home ever again. Mayer recognizes that, occasionally, we will have to wait for the symbolic cable guy. As long as Yahoos act like a team player in Yahoo's new culture, and do not abuse telecommuting privileges, folks can still telecommute when there's a warranted need.
Yahoo Needs This Type of Unity
Mayer wants everyone on the Yahoo team to be on the same page—to communicate easier and faster.  If you follow Yahoo's news (and its insane amount of coverage) closely, you'll remember that Mayer recently made headlines by giving every Yahoo employee an iPhone (or Android) late last year.
The reason for the mandated smartphones are to "get consistency across the company," according to Business Insider's insider source.
This new telecommuting mandate is just another way that Mayer is taking a step toward a company culture that's more unified, communicative Yahoo.
According to the memo: "With the introduction of initiatives like FYI, Goals and PB&J, we want everyone to participate in our culture and contribute to the positive momentum."
The initiatives she mentions are deliberately designed to improve camaraderie, brainstorming and collaboration---and the new cultural foundation for a more collaborative culture. And, once again, nothing beats face-to-face collaboration.
Yahoos Might Be Irked Now … But Happier in the Long Run
Even if Yahoos initially feel "dissatisfaction with the way they work and benefits of working at home at their leisure, their level of satisfaction with coworkers, supervisors, work they do and growth opportunities available to them will increase over time," according to Brummel.
Working in the office brings its own perks: personable collaboration, stronger relationships, unity and more opportunities for growth. "Overall, I would expect an increase in job happiness for the people who stay with Yahoo and return to the office after a while," Brummel says.
This structural change will certainly help revamp Yahoo into a more cohesive culture. After all, how can you be happy working at a company that's as slow, disorganized and underperforming as Yahoo has been in the past? Banning work-at-home arrangements full-time are a necessary evil.