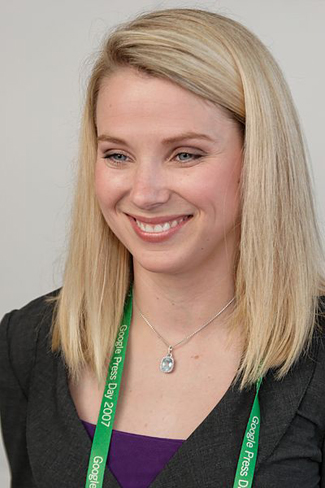 Marissa Mayer has been sprinkling her Google charm as the new CEO of Yahoo for about a month now, bringing some of Google's winning elements into Yahoo's company culture.
One Yahoo software engineer, who wanted to remain anonymous, says employee morale is already improving at the struggling Internet company.
"The climate [at Yahoo] is getting better now that one of Google's top execs is in the hot seat," the Yahoo software engineer told CareerBliss.
[Yahoo Employees Tell CareerBliss They Want Stability, Vision]
For Yahooers, Mayer is a game-changer.
"For an organization that has churned through CEOs, bringing in a star player from the 800 pound gorilla speaks volumes," says Matt Stegmeier of Stegmeier Consulting Group, which has held workshops and seminars with Yahoo and Google employees. (Plus, the group has done extensive research on Google for a book on effective work environments.)
In the pre-Mayer era, Stegmeier says that a huge problem with Yahoo is that it's a talent black hole, and these problems have been well-documented.
"They've hemorrhaged the best and the brightest in Silicon Valley for years and the problem has gone far beyond reality," he says. "The fact is—there has been a strong perception that Yahoo is just not a good place to work."
But things are looking up. Here are some lessons on winning company culture we learned from Mayer's takeover:
1. Employees Need to Feel Valued
Yahoo: Our anonymous Yahoo  tipster said: "[Mayer] is slowly inculcating tidbits of Google's culture into Yahoo by holding weekly FYI [meetings] to showcase product launches, making all food free and setting stringent GPA requirements for new hires, especially college grads," he said. It's gradual, but visible, he added.
For the team, the FYI meetings are especially a welcomed change, "giving employees more insight into new hires and product launches."
Google: Google's company culture, on the other hand, is renowned for making employees feel appreciated. In fact, Google earned the No. 1 rank among CareerBliss' 2012 Bliss Leap Award Winners for the biggest stride in making their employees happy.  Free food, time for personal projects, and direct interaction with the guys in charge are all elements Google built into their culture from Day 1 in order to make their employees feel happy and valued.
2. Management Should Be Transparent and Stable
Yahoo!: In the pre-Mayer era, an anonymous fulfillment manager reviewed Yahoo on CareerBliss and pointed to upper management as a huge issue. "One of the difficult situations at Yahoo was the lack of innovation at the upper management level and the multiple re-organizations," the reviewer wrote.
Now, Stegmeier says that one of the biggest contributions Mayer is making to Yahoo's corporate
culture right off the bat is stability. "Having a steady hand guiding the organization from the top goes a long way towards righting the ship," Stegmeier says.
Google: Google's commitment to open-door policies has been celebrated for years.  For instance, when Mayer was a department head at Google, she said: "I have this open-door thing every day, where for two hours, I just sit at my desk -- it's like office hours -- and whoever wants to come by and show me stuff can," Mayer said in an interview with Fast Company back in 2008.
This is when she saw cool, innovative demos and offered feedback. Yahooers will surely benefit from Mayer's openness and availability.
3. Culture Should be Consistent with Core Values
Yahoo!: With leaders coming and going as if the Yahoo CEO's office had a revolving door (five CEOs in the past five years!), it's easy for the company to lose consistency and sight of the original core values.
One reviewer noted that Yahoo has an amazing product, but hasn't stuck to their original cultural values — losing some major company culture points. When asked what don't you like about working at Yahoo, the reviewer said: "Failure to keep the core values of the company that had Fortune 100 companies interested in the original concept of the software," the reviewer says.
But, like Stegmeier says, Mayer will offer a steady hand. And, the fact that Yahoo's board hired Mayer while pregnant means "Yahoo has implicitly shown how its corporate culture is taking a large step toward embracing true work-life balance," Stegmeier says.
[New Yahoo CEO Disclosed Pregnancy before Job Offer — Should You?]
Google: One way Google continues to build a team that stays true to their core values is by having the CEO approve all new hires. After all, who can better judge cultural fits than the folks who shape the company culture?
Wall Street Journal recently reported that Mayer is also now approving all new Yahoo hires, a long standing Google tradition. By ensuring that new hires fit the company culture, feel valued and align with Yahoo's core values, Mayer is sure to reinvent Yahoo as a great place to work!
The Big Question: Where would you rather work, Google or Yahoo?