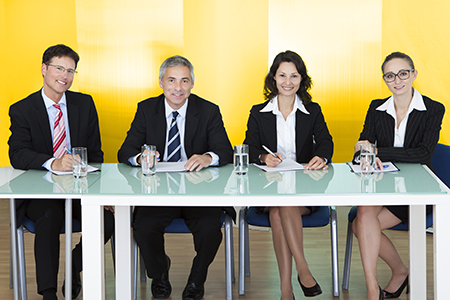 Did you know that your interview starts well before you even sit down in that shiny, new office? Employers pay close attention to your values, personality and how you interact with others as soon as you enter the building.
Here's the thing: common, rehearsed interview questions aren't exactly the best way to gauge your personality and values. They already like your resume. What they're looking to see is if you're as great in person as you are on paper. That's why many employers love to come up with their own unique tests that measure more than just your knowledge or technical skills.
Whether it's nay-saying, complaining or not willing to be a sport—each company has their own top deal breakers that weed out candidates who simply won't jibe well with their unique culture.
"We try to ask questions that reveal how someone works and how adaptable their current skills will be to our challenges. Also, how open they are to trying or learning new things," says Shon Burton, founder of HiringSolved, and a former recruiter for Apple, Google, Twitter and other major companies known for seeking top talent.
These three interview tests are specifically designed to red flag cultural discrepancies. Keep these in mind before your next interview. Preparing for offbeat interview situations is a great way to stay vigilant and go above-and-beyond to prove you're the best possible candidate!
The Candy Wrapper Test
Katy Sampson of RightFit Plus, a pre-employment screening services company, says that a senior client of hers used to adopt the 'candy wrapper' test for some roles.
To test candidates, he would leave a candy wrapper just outside the interview room before he went to greet the candidate. The purpose of this was to see who would notice it and pick it up and who would simply walk by.
"He had a really strong belief that a team's success and culture was driven from the top down and this was a great way to see whether somebody might really be able to help us out," she says.
In other words, they were looking to weed out folks who might shrug their shoulders and say, "uh…it's not my job."
'There is No Right Answer'
Many employers love to see how a candidate's thought process works. When there is no right answer, you're forced to be proactive and get creative.
It's a great chance for employers to learn more about both your problem solving skills and personality. Remember: The idea isn't to simply test you with a brainteaser; rather, it's to "sort for people who enjoy hacking away at a problem (and can apply the tech skills)," Burton says. 
William Robson, who has managed teams in commercial software development for 35 years, tests candidates for cultural fit by drawing a puzzle on the board.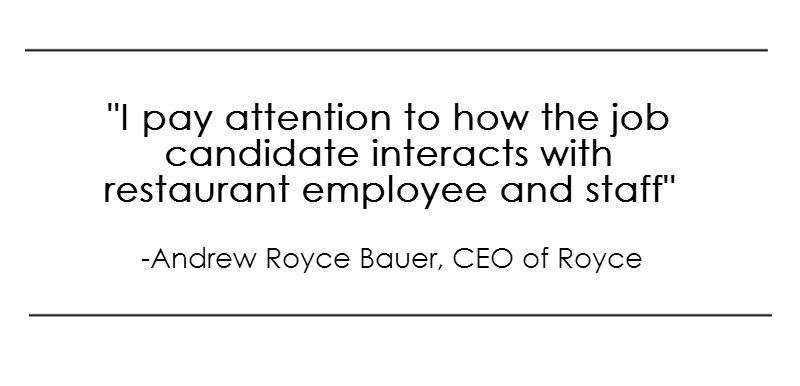 "The picture represents a road that goes over a railroad track," Robson says. "The city decided to add a stoplight before the tracks. The question was, what should the frequency of the light changing be, and what are the determining factors that make up the decision?
The point is to show you're diligent, detail-oriented and enthusiastic enough to solve problems presented to you.
In Robson's example: "Does the applicant ask what the known train schedule is? Then, do they ask if there are different requirements for night time? Do they reach out and ask how much budget is available, or who needs to be involved in the decision?" Robson says.
The Restaurant Test
Some employers like to meet candidates at restaurants or coffee shops specifically to see how you interact with the restaurant employee and staff.
Andrew Royce Bauer, CEO of Royce, a luxury goods company, does this with his serious job candidates. "I pay attention to how the job candidate interacts with restaurant employee and staff," Bauer tells us.
 "A lunch interview brings out spontaneous interactions that creates a more transparent understanding of the candidate beyond just a one on one interaction in a business office."
So, the next time you're arriving to an interview, present your best self--even when no one's looking!
Need more interview prep? CareerBliss has your back:
6 Tough Interview Questions Revealed by Employers
These 5 Amazing Questions Will Impress Your Interviewer
The Complete Guide to Mastering Your Video Interview
Master the Over-the-Phone Job Interview