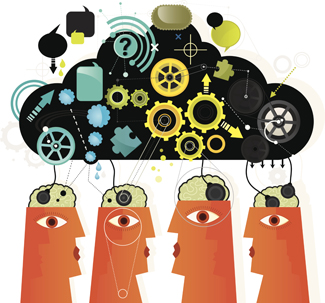 A recent study by Deloitte, found that 78 percent of Millennials globally believe innovation is essential for business growth – and they are eager to be innovators. But only 26 percent of those surveyed feel that today's business leaders are doing enough to foster innovation.
At Enova, we have created the flexible, entrepreneurial environment that Millennials crave – in fact, 80 percent of our 1,000 employees match the Gen Y definition (18-29 year olds). In eight years we have grown from a Chicago startup with a single product sold in one country to a company with eight products sold in four countries. Much of our success stems from the innovative spirit of our Millennial employees.
Our Gen Y talent has helped us achieve this business success and implementing these three tips for channeling your Millennial workers' drive for innovation might help you crush the competition too:
1. Actively Respond to What Millennials Want from Work
Trust is an important value to Gen Y employees -- trust in their employer and knowing their employer trusts them in return. You need to start by making these fundamental tenants the cornerstone of your corporate values.
Empower Millennials with autonomy and trust, beginning with their ideas. Encourage them to take an active role in defining and leading their projects and their career overall. Gen Y'ers are not always fond of the status quo and can easily spot opportunities for improvement.  Ask them to challenge the status quo, to look at problems, challenge assumptions and help innovate.
Our employees tell us that the two most influential elements in their work environment are recognition for their contributions and the ability to work in a collaborative environment. Are you creating this kind of opportunity because it maybe the competitive business advantage you need?
2. Channel Their Can Do Spirit
Gen Y brings a can-do spirit and expertise that aligns directly with many technology and Web-driven businesses.  They can drive product execution and help your company innovate ahead of your competitors. They are an increasingly mobile generation and will move on to new jobs if they don't feel challenged and valued.
So make them feel part of your long-term growth, allowing them to contribute to new strategic initiatives that will further their personal development.  You must provide a challenging work environment, where their projects and their peers stretch their capabilities.
3. Invest In an Environment for Innovation
Gen Y'ers don't look forward to private offices -- they've spent their formative years in open casual environments, like working on their laptop at Starbucks.  So design your work spaces for open collaboration and communication.  Provide formal group meeting areas but also open lounge areas for informal group gatherings and discussion. Remember this is a generation that more easily communicates via text and social media so you need to foster face-to-face interactions.
Because their preference is often for later work hours, you'll be smart to keep an open kitchen that's stocked with free drinks and snacks.  We even keep a few strategically placed giant bean bag chairs for someone to recharge their batteries for a few more hours of challenging work.
Millennials also are used to using the latest in technology and tools and want it in their work environment, too.  Make sure they have the best in technology tools and accessibility so that they can move freely around your work environment or a nearby coffee shop for a few hours.
---
As Chief Technology Officer of Enova International, Fred Lee is responsible for driving the global online lender's technology vision, which is to continuously enhance innovation on behalf of Enova's two million customers. He brings the combination of technology experience and legal training to the management of the company's technology platforms. Fred has been instrumental in implementing the incubation of new technologies; the design of a technology recruitment program, and the cultivation of world-class technical talent.