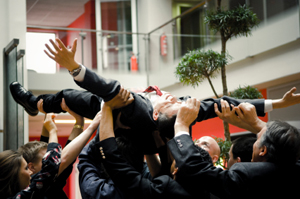 When was the last time you felt passionate about your job? If it's only been a few months, it's not too late to rekindle your passion at work. If it's been a few years and your love has fizzled, then it's inevitable that you'll soon be looking for a new job.
When that time comes, do you know what to look for in your next job search? Whatever it is, it's important that you find a job that will love you back. As you know, in any relationship including a professional one, it won't last long if it's only one-sided.
During your quest for a better job, keep these things in mind:
1. Know what makes you tick: As you look at job boards, it's pretty clear that employers know exactly what they want in a candidate, i.e. education, years of experience, area of expertise, etc… But what about you? What do YOU want out of your next work relationship? Before you apply, ask yourself "Am I looking for a fat paycheck and a better title or am I really looking for job security and a great company culture?" Knowing this early on will help you determine if there's a connection between you and the next employer.
2. Don't settle: Yes, times are tough and jobs aren't easy to come by these days, but that doesn't mean you should settle. As you interview and get closer to getting a job offer, make sure the employer is going to include things that will make you happy. Negotiate for it and if possible, get it in writing. When you find a job that offers just the thing that drives and motivates you, not only will you be more passionate about your job, you'll actually have a long lasting work relationship.
3. Be honest with yourself: It's true that when you're looking for your next big love, you might be willing to overlook some flaws. So the employer throws killer holiday parties and there's some level of job security, but you discover they've promoted only 2 employees within the last 3 years. If job growth is important to you, this is probably not the right company. Be honest with yourself and decide what you're willing to live with and without.
If you're looking for a long lasting work relationship, it's important to make the right connection and fall in love with a job that will love you back. If you're not sure what you're looking for, take our BlissFinder tool for a spin and find out. And if you're ready to see what's out there, search more than 2 million jobs on CareerBliss.