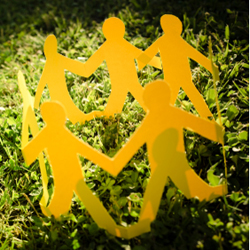 Though service jobs will buy you neither Gucci nor Louis nor Fendi nor Prada, some might argue that a career dedicated to serving others pays way more than any high-powered investment job could.
It pays off with buckets of intrinsic happiness.
Some service workers describe warm feelings of "being part of something bigger than myself," or "modeling for my children what it means to live your values" as additional perks of service jobs,  as Director of Professional Development at DePauw University Steve Langerud has heard from service professionals he advises.
But, alas, happiness doesn't pay the bills. It's unfortunate that some of the most altruistic jobs are also known as some of the least compensated.
But if you're passionate and dedicated, there's a way to balance both.
"Most of the successful people I meet have one mantra: lower pay does not mean no pay," Langerud says. "They are making intentional choices about their lives and their work.  They live to their income. They still live well."
To help you get a sense of what's out there we looked at our database of thousands of salaries to narrow down five jobs that are devoted to helping others while still earning enough to keep your head above water.
1.
Child Life Therapist Approximate Avg. salary: $37,195
Such professionals make it their life's goal to help kids and families go through the toughest times. You'd be the ear and comfort they turn to in times of crisis. It's a lot of responsibility, but with the proper training and at least a bachelor's degree, you can make a difference.
2.
Teacher
Approximate Avg. salary: $43,729
Teaching is another part of the job market that's high in demand, particularly in the math and science field. One 2011 Harvard study says that U.S. students fell behind 31 countries in math proficiency. Stats like these have resulted in a National Math and Science Initiative. Your contribution: helping mold our future (Oh, and you might have summer vacations!).
3.
Chaplain
Approximate Avg. salary: $44,003
Passionate about your faith? The interesting thing about working as a Chaplain is that it doesn't limit you to a church. Chaplains commonly offer support in universities, police departments, hospitals and prisons. It's also becoming a growing trend for businesses to house chaplains, according to Business Management Daily, as a means to boost company morale.
4.
Nurse Practitioner
Approximate Avg. salary: $57,170
The beauty of a nursing career is that the demand is ridiculously high. The
American Nurses Association
reports that more than 50 percent of nursing workforce is close to retirement. You'd certainly help fill the void of a helping hand! 
5.
Psychotherapist
Approximate Avg. salary: $62,672
This one requires more education, which is why it pays more. The term is broad. It applies to a variety of specialties — requiring graduate degree, certification and clinical experience. The aim is to help troubled people change their thoughts, feelings and behavior. Whether it's helping people work through family therapy or rehabilitation counseling, you can make a difference in your niche.
None of the above strike your fancy? Both Langerud and Roberta Matuson, president of Human Resource Solutions and author of Suddenly in Charge, stress the importance of choosing one cause.
For those of you who aren't sure exactly how you want to help, Langerud suggests you focus on four simple concepts: "What skills they wish to use in the future, what issues or topic you wish to engage, who they seek as colleagues in their work, and what type of environment."
Alternatively, Matuson also offers practical advice for people with an itching desire to help others while making money.
"If you can't figure out a way to make the numbers work, and then take a job with a company that will provide you with the financial security you seek and volunteer at a non-profit in the evenings and on weekends," she says.