By Barbara Ellis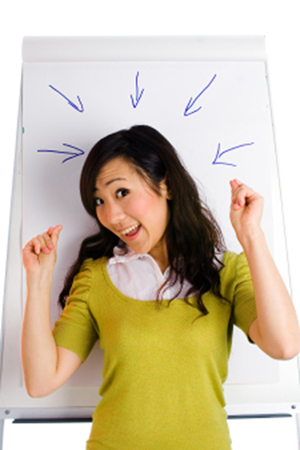 We've all heard the horror stories of party pictures and rude comments posted on social media swaying a potential employer from hiring a candidate.  Basic mistakes can cost you a job.  But what does one do to stand out from the crowd when job hunting?
Here are some key tips for using social media to get noticed right way:
1. Harness the Power of LinkedIn
Since LinkedIn is the first place employers go to search for talent, start by developing a profile showcasing your professional history.  Join LinkedIn groups related to your industry and for job seekers, and regularly participate in discussions.  You can also follow companies you are interested in to stay informed.
If you're sending invitations to connect with anyone other than your closest personal friends, personalize the accompanying note.  A friend once told me if she doesn't really know someone, she'll Google the name and look for articles the person has written, then uses a little flattery in her connection note by referencing something she liked from the article.  Not only does her invite typically get accepted, she often receives replied thanking her!
Once you're connected, utilize the LinkedIn job change notifier to keep abreast of job changes or companies.  If you're submitting a resume, look up the hiring manager on LinkedIn to find details that allow you to tailor your cover letter.  And, finally, hyperlink your LinkedIn account on your resume.
[CareerBliss Career Guide: Social Media]
2. Use Twitter to Showcase your Industry Knowledge
If your current Twitter feed is all about trending hashtags or keeping up with friends, consider starting a new professional Twitter profile using your full name and resume-worthy profile picture.  Follow industry experts, the companies or type of company you are interested in working for, hiring managers at those companies and other industry related professionals like columnists and association leaders.  One trick to quickly find these people is to follow one or two industry experts, then look at who they're following.  Your feed will quickly be full of useful links, articles and information.
Tweet industry-relevant posts and highlight your knowledge and skills, and engage with others by re-tweeting and commenting.  Another tip for networking on Twitter is to use hashtags -- #jobseekers, #careerchat, #jobhuntchat and others will connect you with other job seekers and people in your industry.
3. Use your Personal Connections on Facebook
Since most Facebook users are there for fun and friendship, one might think it's not the place to job hunt.  However, a well-directed post or two, or direct messages sent to individuals letting them know your job aspirations can result in personal introductions.
The more specific you can be about what you're looking for, the better.  At a recent networking event I witnessed someone being handed Donald Trump's personal cell phone number simply by stating that's what they were looking for!  Keep abreast of your target companies by "liking" them and creating a list so you can easily view all their most recent posts in one spot.
4. Embrace other Social Media Options
Most people focus their social media efforts on Facebook, Twitter and LinkedIn, but industry or company blogs, YouTube and Quora can also be a great way of interacting with people in your field.  Create a Google+ profile designed to match your LinkedIn profile.  Get creative with Vine by telling your story in short looping videos and share them across Twitter and Facebook adding personality and giving dimension to all the other effort you've made. Wherever you decide to stand out in social media make an impact and stay true to who you are!
---

Barbara Ellis is the Manager of Corporate and Strategic Relationships at American Public University.  Barbara shares her expertise via speaking engagements and by writing blogs and articles for a variety of publications providing insight on personal branding, business, leadership and more. Follow APU on Twitter.