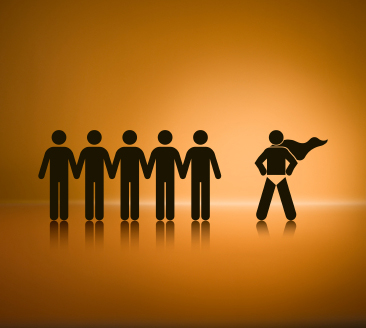 No matter what the genre, almost all popular movies follow the same basic premise:  hero wants the girl, hero works to get the girl, hero gets the girl.
This basic story formula works in movies because it lets us vicariously fulfill the basic human drive to overcome challenges, better ourselves and improve our lives. Stories basically sell us on the idea that, if we try, we CAN succeed, no matter the odds against us.
The three-act structure described above is a great way to get people invested into a movie character – it's also a great way to get a prospective employer invested in you as a viable candidate for a job.
Here's how to cast yourself as the hero in your career story:
1. Set the stage with your resume
How many times have you seen a movie that disappointed you? The trailer looked amazing. The actual movie, not so great.
Think of your resume as the trailer, and your interview as the main feature. Too many people put all of their effort into crafting the perfect resume, then sit there and expect that their job is already done when they get to the interview.
Quite the opposite: Your resume should whet the appetite of the hiring manager and get you the interview. But fail to meet the hiring manager's expectations with a sluggish or uninspiring interview, and your resume is nothing but an empty promise.
2. Grab 'em from the first scene
The first scene in the movie is usually the most exciting or intriguing – it grabs you from the get-go and sets up your expectations for the rest of the movie.
In an interview, start by giving the best impression you possibly can, and the interviewer will have a good feeling about you for the rest of the interview. Studies have shown that we decide in the first half minute of meeting someone whether we like them or not, as well as making judgments about intelligence and personality.
"Psychologists agree that snap judgments in which clues (mellifluous voice, Rolex watch, soggy handshake, hunched shoulders) hit us all at once and form an impression larger than their sum," says Carlin Flora, contributing author for Psychology Today.
So make sure you have a smile on your face and no broccoli in your teeth, look them in the eye and offer your hand first for a handshake. You'll do just fine.
3. Tell interviewers your 'hero' backstory
Few movies launch us into the plot without first telling us about our hero. After all, we want to know why we should invest two hours of our lives watching a movie about him. A hiring manager will want to know from the start why they should invest their time into you.
In an interview, one of the most common job questions is "Why did you leave your last job?" This is your chance to tell the interviewer your backstory and why they should be rooting for you.
"I left XYZ Consulting because I want to work in a multinational company and use my degree in Cultural Studies in my line of work – I have big aspirations" is a better answer than "I need more money."
4. Take your interviewer on a journey
The body of the movie is where the action happens. We go along on the hero's journey as he battles to achieve his goal.
The main portion of your interview should be a journey for your interviewer. Tell your hero's story as a progression of events that reveal your career highlights:
What your battle is ("I've always wanted to manage a beauty salon.")
What makes you think you'll succeed ("I have 10 years' experience managing the beauty department in my previous position.")
What you're prepared to do to win your battle ("I've been taking night-school esthetician classes to sharpen my skills.")
How winning this job would help you succeed in your hero's journey ("This position would let me combine my people skills with my talent as a make-up artist, to take this salon to new heights of business and creativity.")
5. Reveal your 'lowest moment' to show how you sprung back
Most moves show the hero hitting rock bottom right before the ending, only to bounce back for the big uplifting finish. The most common way to do this is the fake-death scene, where we all think the hero is dead, or otherwise neutralized, until he coughs and open his eyes, and – phew! – is fine.
The job-interview equivalent are those tough interview questions where you are asked to reveal a weakness in either your skills or personality. You know the ones:
"What job skills do you think need improvement?"
"Tell us what you felt was unfair at your last job."
"Which past boss has liked you the least, and why?"
When asked these questions, you may secretly wish you could roll over and play dead. Remember that the hiring manager is not asking you these questions to actually kill your chances at getting the job, but to see how you spring back from adversity. Tell your interviewer how you made lemonade out of lemons – and became a better worker for it -- and you're on track for success.
6. Be ready for your big finish!
The final scene in the movie is what we've all been waiting for: The boy gets the girl; the explorer reaches the top of the mountain; the crowd cheers as the racecar crosses the finish line.
Wrap up the interview as though there is an invisible crowd cheering you on to victory. Thank the manager for their time, sum up why you think you should be chosen to fill this position, and leave them with a big smile and a second handshake. The last impression is just as important as the first impression, so memorize a positive and inspiring farewell line, and hope that you're brought back for the sequel to a good job interview: landing the position.
---
Natasha Rhodes is a careers expert and writer for CareerBliss, an online career community dedicated to helping people find happiness in the workplace. Check out CareerBliss for millions of job listings, company reviews, and salary information.