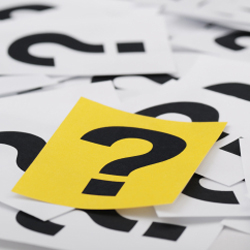 There are plenty of obvious ways to screw up a job interview: show up late; take a call mid-interview; unload about your old boss; steal the interviewer's pen (booze on the breath or dog poop on the shoes also can lead to a less-than-desirable outcome).
But there is a more subtle job interview killer out there: failure of the candidate to ask questions.
"No questions is the kiss of death in an interview," said Jodi R. R. Smith of Mannersmith Etiquette Consulting. "If I get to the end of a 45 minute interview and ask if you have any questions, and you do not, you are not going on to the second round."
With all the emphasis put on crafting great answers – what is your biggest weakness, by the way? – don't forget to arrive to your job interview with plenty of smart questions. You will be judged by what you ask.
"Questions help me see how the person thinks, how thorough he or she is, how curious, how truly interested in finding the right position," said Denise Altman, president of the Altman Initiative Group.
Here are some things to consider when crafting your questions:
Don't be Shy
"In today's economy with an abundance of job seekers I've found some candidates more hesitant to ask questions," Amy Carpenter, a Vice President with Ticket City who frequently conducts interviews.
"Maybe it's due to the fact they fear they'll question themselves out of a job by coming across as too particular or aggressive. In either case, what they're actually displaying is indifference or disinterest."
Do Your Research
Despite the adage, there are, in fact, dumb questions -- when it comes to a job interview, at least. Any question that exposes that you failed to do a minimum amount of research about a prospective employer should be avoided (such as, what exactly is it that you do, anyway?).
Your questions should demonstrate that you know something about the company and the industry overall – and the more thorough your knowledge, the better.
Career coach Dorothy Tannahill Moran, aka
Your Career Change Agent
, offers an example of a well-researched question that shows off your knowledge and will give you an idea about how the company works:
I see that you've announced X new product, how will your organization support the launch of that product?
Topics to Avoid
During the interview stage, it's best to steer clear of questions about compensation, benefits and vacation time. This is a time to show a prospective employer what you have to offer.
Career coach Roy Cohen, who also wrote The Wall Street Professional's Survival Guide, suggests that you avoid topics "that focus on indifference, fear or job security. We live and work in times of great movement and lack of job security. Companies don't want the burden of needy employees.
And, Career coach Lisa K. McDonald reminds us, don't ask if they drug test.
Consider Adding these to Your Repertoire
We asked career experts and people who do the hiring at companies to recommend some specific questions job candidates should consider asking at their next job interview*:
1. What kind of characteristics are you looking for in the candidate? -- Cheryl E. Palmer, Call to Career
2. If this is a new position, what prompted the company to decide to create it? -- Rod Hughes, Oxford Communications
3. Do you have any hesitations regarding my background? – Tom Gimbel, LaSalle Network
4. How would you measure performance for this position? -- Mark Grimm, Mark Grimm Communications
5. What do you see as the key challenges facing a person in this position? -- Elaine Boylan, Adelphi University
6. What makes this company different from competitors in the industry? – CareerBliss
7. What happened to the person who held this job previously? – Jodi R.R. Smith, Mannersmith Etiquette Consulting
8. If you were evaluating my success 6 months from now what would make it a home-run? – Roy Cohen, Career Coach
9. Where will the company be in three to five years and how will it get there? – Lisa K. McDonald, Career Polish Inc.
10. What challenges are being faced by the company? – Alan Guinn, The Guinn Consultancy Group
*Questions are in no particular order, contributor is credited in italics.
Before you get an interview, you need to apply for a job. Check out CareerBliss' more than 3 million jobs.