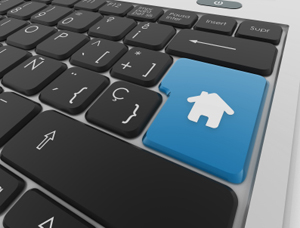 Working at home should be great, right?  You get to sleep in, set your own hours, and take a conference call in your pajamas.  What's not to love about it?  Well for starters, a little thing called DISTRACTION. Before you make your bedroom your boardroom think about these things:
Can You Be Your Own Boss?
Working at home can make you feel like a kid alone in a candy store, giving you the urge to gobble up every tasty thing in site, no matter what the consequences. Only the candy here is stuff like daytime TV, your queue on Tivo, and Facebook.  If you want to be productive while working at home, be sure you know what type of environment works for you.  If you thrive on the company of coworkers and do better with someone pushing you to meet deadlines, working at home might not be the best idea for you.  But if you enjoy working independently and are a person who can bust out a presentation, can handle a conference call and still unload your dishwasher… then read on.
Know Your Space
When working at home, space is not the final frontier, it's the area you have that you can dedicate to your work.  If you work best with clutter on your desk, or in complete silence, or with music playing and people talking, you might not have that same environment at home. You need to replicate a working space that is conducive to your work style. If silence is deafening and you need background noise, try playing music in your office. The bottom line is creating a work environment that promotes productivity.
Do You Have the Right Stuff?
If you're reading this at home, you probably already have a computer and if you're alive, you've probably got a cell phone, so the only other essential you need to work at home is high-speed Internet.  A high-speed Internet connection makes it easier to upload and download large files and also makes it much easier to log-on to a company or client's network from home. You'll also want to take stock of your comfort level with trouble shooting, since you'll probably be the IT guy when things go wrong at home.  You don't have to be able to fix everything, but knowing some basic fixes could go a long way when your PC misbehaves.
What You Wear Matters
Sleeping until eleven or jumping onto a conference call in your pajamas may sound great, until your work product suffers.  The term "dress to impress," still applies for those working at home. If you dress like you're lounging around, it sends a message to your mind and body that you're at home to relax, not to work. Change that message to yourself by keeping to a schedule. Wake up at the same time every day, dress for work, and set the hours of your day, that way you'll be more productive and less likely to procrastinate.   
Do Not Disturb!
Just because you work from home does not mean you are available all day. Your family, friends and roommates need to know that when you are home you are working and not available to run errands and take care of all the cleaning. Communicate to those who you share your space that this is no different than the office, and you need to dedicate a full day to your work. Make sure your housemates understand that this is still a professional environment. IF they still don't take a hint, maybe a DO NOT DISTURB sign on your home office door might do the trick!