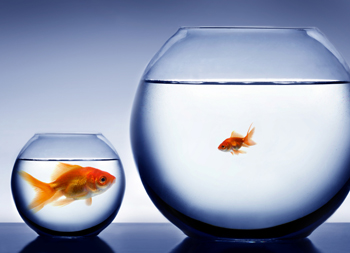 Is bigger always better? When it comes to choosing your internship, not necessarily.
Internships are often the first delicious taste of the real world. And the goal is to squeeze it for every ounce of professional experience possible.
That's why, research is essential. If you have an offer, talk to past interns, dig deep into the job description and research the company like it's your favorite band.
"Big or small, the last thing you want is to be stuck in a passive internship program, where an intern is assigned a hiring manager or team, shows up and they give that person 'stuff' to do," says Katherine von Jan, CEO of RadMatter, a cool site for students looking for career opportunities.
Rather than learning by osmosis, a great internship includes real assignments, achievements and networking. Trust me, you'll be so grateful in the long run for quality referrals, letters of recommendation and even mentorship.
But large and small corporations offer different advantages. Which type of company—big or small—will give you a bigger bang for your time? Here's what to consider:
At a Small Company, Interns Can't Hide
With fewer resources, smaller companies need you more.
Whereas if your department has 100 people, it can be easy to get lost in the crowd...maybe even hidden by a large office plant in the team-wide meeting.
Sure, I might be exaggerating a bit, but Melissa Zeman, an intern at York Solutions in Westchester agrees with my point. She's worked at both large and small companies and says, "With other [larger] companies I've interned at, I never felt I had the chance to speak up, but at York I always feel I am encouraged to give my own input and share my ideas," she says.
Large Companies Offer Structure, Small Companies Offer Fluidity
This is important: how specialized you want to be as an intern? "At large companies, an intern's role is more often specialized – either within a specific department or a project," says Yair Riemer, VP of Marketing at CareerArc Group, the parent of Internships.com
This situation is perfect if you already know what you want to do. But, if you want to get your feet wet, "rather than working in the finance department with a specific accounting project," for instance, "a smaller company intern may bounce from department to department, seeing more aspects of the business and helping wherever you are needed," Riemer says.
He also suggests you look into "rotational internships" at larger companies. These formal rotational programs can give you a broader perspective of a large company in a structured way.
[Jack of All Trades or Master of One?]
Smaller Companies Offer 1:1 Collaboration
If the only chance you get to speak to the head of your department is in the elevator on the way to a meeting, cultivating a long-lasting relationship is going to be tricky.
At large companies, "I knew I was missing genuine connections and didn't feel professionally challenged," Zeman says.  It's hard to communicate your career goals if you don't have solid relationships as a foundation.
But, hey, if you're a bit extroverted and enjoy mingling with a many people, creating long-lasting relationships with your colleagues at large companies is possible. A bit harder, but possible.
Larger Companies Hire Interns Full-Time More Often
Riemer offers some interesting stats about intern to full-time hiring based on an Internships.com survey. Both large and small employers love hiring interns (because it's a great recruiting tool), but "companies with more than 100 employees offered full-time job offers to just about 70 percent of their interns in 2012," he says.
Large media giant AOL, for instance, is hiring its marketing interns full-time at their HQ.
Laura Jacobs, career consultant at the University of Wisconsin – Whitewater, says that from her experience, she's seen big companies offer interns full-time jobs more often. "Based on overall size and national/international scope, big companies often have more opportunities," she says.
Not to mention fatter wallets!