Here at CareerBliss, we live by the motto "Choose Happy." This month we are honored to recognize companies that are creating happy environments for their teams! CareerBliss recently announced our 7th annual Careerbliss 50 Happiest Companies in America awards list.
Thousands of people reviewed their employer in 2016, and we analyzed those reviews and crunched the numbers to create our annual awards list.
Without further ado, meet our Top 10 Happiest Companies in America for 2017:
| RANK | LAST YEAR | COMPANY | | AVERAGE SALARY | OPEN JOBS |
| --- | --- | --- | --- | --- | --- |
| 1 | -- | Bristol-Myers Squibb | 3.988 | $97,250 | View Jobs |
| 2 | 2 | Amgen Inc | 3.898 | $87092 | View Jobs |
| 3 | 17 | Keller Williams Realty | 3.844 | $61,000 | View Jobs |
| 4 | 44 | Visa, Inc. | 3.815 | $85,000 | View Jobs |
| 5 | 5 | Total Quality Logistics | 3.790 | $69,142 | View Jobs |
| 6 | 9 | Adobe Systems Incorporated | 3.778 | $74,008 | View Jobs |
| 7 | -- | PNC Financial Services Group, Inc. | 3.744 | $69,714 | View Jobs |
| 8 | 12 | Parsons Corporation | 3.722 | $53,334 | View Jobs |
| 9 | 8 | Chevron Corporation | 3.67 | $57,471 | View Jobs |
| 10 | -- | Prudential Insurance Company of America | 3.595 | $53,568 | View Jobs |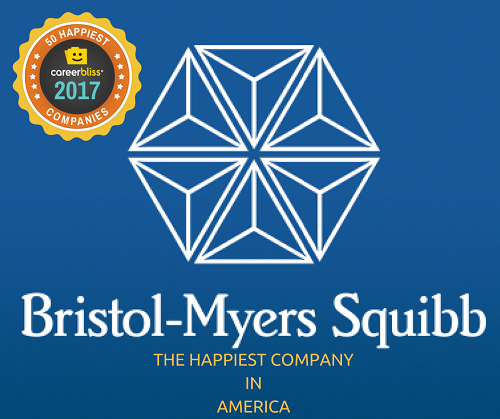 #1 Happiest Company in America: Bristol-Myers Squibb
Bravo to this year's winner, Bristol-Myers Squibb. The global biopharmaceutical company, based in New York City, is a leader in the research and development of innovative medicines and life-saving treatments.
According to one employee with Bristol-Myers Squibb, "Bristol-Myers Squibb really cares about its employees and its patients. They have been able to navigate the rough waters of BIG pharma where other companies have gone under. The management team is supportive and committed to professional growth and development opportunities for their employees."
According to another, "From the CEO to other senior leaders to the head of our division and within the sales and sales leaders, the focus is on making a real difference to the patients we serve."
Another states: "In less than a year and a half, BMS has proven why it is one of the 50 best places to work as determined in a recent survey on companies in NJ. The products made by BMS truly have a huge impact on the lives of their patients. I think that working for a company that makes products like this breeds a certain type of employee culture to want to help more."
CareerBliss honors Bristol-Myers Squibb for creating a unique and positive work environment for employees! Check out their job openings here:
https://www.careerbliss.com/bristol-myers-squibb/jobs/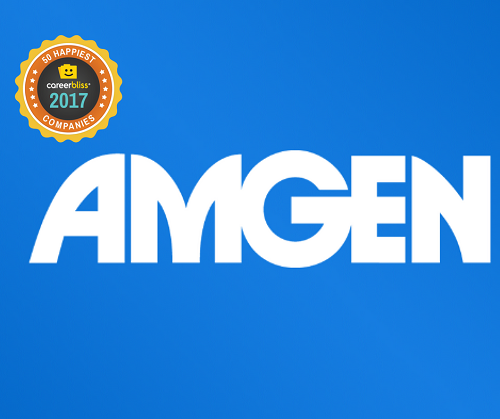 #2 Happiest Company in America: Amgen
Congratulations to the 2nd Happiest Company in America, Amgen! Amgen is a leading biotechnology company that aims to provide the top most effective medication. Headquartered in Thousand Oaks, CA, their net income is about $4.627 billion and growing. It's currently the world's largest independently run biotech firm with about 17,500 employees.
One Amgen employee had this to say: "I work with an incredible group of researchers and scientists. Working for Amgen is very rewarding to see the positive impact we make in patient's lives."
Another employee states: "It's been a fantastic place to work. The work-life balance is great, fantastic daycare on campus, lots of smart co-workers."
A third employee wrote: "I love this place. The company has unbelievable resources to get the job done right, as well as group of people willing to do the very best that they can. I have had the joy of working with people that are very focused at doing the best that they can do, and I am happy working here. In the end you will know that you are working on something important and you made a difference."
Good news - Amgen is hiring! Check out their job openings here: 
https://www.careerbliss.com/amgen/jobs/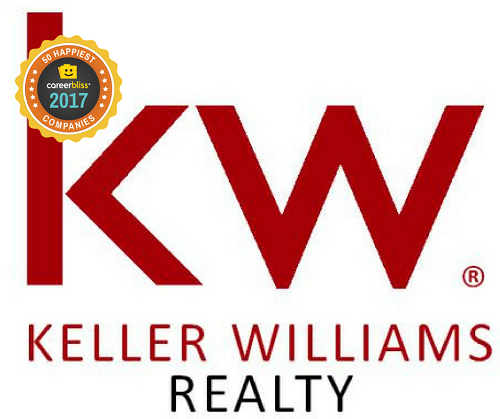 #3 Happiest Company in America: Keller Williams Realty
Congratulations to the CareerBliss 3rd Happiest Company in America, Keller Williams Realty! A franchise company with more than 700 real estate offices, the company boasts more than 80,000 real estate agents who sell residential and commercial properties throughout the United States and Canada. Each Keller Williams office is independently owned and operated by a real estate broker-owner or a team of broker-owners. All KW offices operate the same way and feature the same corporate branding and technology across the board. Keller Williams Realty culture is centered on the concept of giving. Agents and brokers at all franchises participate in a variety of community-based volunteer programs.
Says one employee: "My time with Keller Williams has been both educational and empowering with one of the best training programs and technology. I have learned both managing and leadership skills not found in other places."
Another glowing review reads: "I've worked at KW since 2005 and love it as much now as the day I started. There is a strong sense of teamwork, family and they put people before business. This is a unique place to work."
Check out jobs at Keller Williams Realty here:
https://www.careerbliss.com/keller-williams-realty/jobs/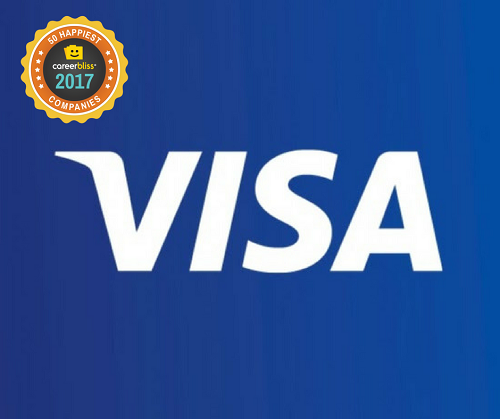 #4 Happiest Company in America: Visa
Congrats to Visa, the 4th Happiest Company in America! Visa currently employs over 7,500 employees throughout the country. Visa provides a health care package, retirement plan, and life insurance as well as paid time off and holidays, competitive pay and currently has several rewards programs to recognize employees achieving excellence.
A Visa employee shared this: "I am proud of working in Visa. A very friendly environment with lots of opportunities to learn new things. I would recommend to anyone working here. Company-wise it's growing day by day and has a good reputation in the market today."
Says another: "Work culture at Visa is good. I was in a very friendly and comfortable environment there. People whom you approach are helpful and the company wants to retain their employees."
Is your CareerBliss at Visa? Find out by viewing their open jobs here:
https://www.careerbliss.com/visa/jobs/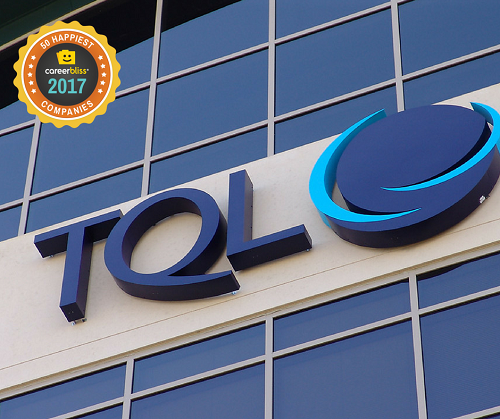 #5 Happiest Company in America: Total Quality Logistics
Total Quality Logistics, also called TQL, is the third largest freight brokerage firm in the US and the 5th happiest workplace in America. It has been actively operating for more than 14 years. TQL careers offer both sales and non-sales jobs. TQL benefits includes unique and challenging activities that promote health and a well-rounded life at home and at work. A 401K plan with employer matching, paid vacation and holidays, matching gift programs, education assistance programs, discounted child care, group discounts on home, renters and auto insurance, local business group discounts.
Their employees are very vocal about how much they love working at TQL. Says one reviewer: "I have enjoyed the professional opportunities and the ability to quickly contribute to the success of the company. The leadership at TQL genuinely cares about everyone in the company and that shows. It is also an unbelievably fun group of people."
Another raves: "I've been at TQL for a little more than two years and am still exhilarated and energized every morning I walk in. I've never been part of a company that is growing so quickly, providing so many opportunities and being such a good corporate citizen. The opportunity to do good work, be recognized for it, have autonomy and work alongside a talented and passionate team makes this an enjoyable position."
As the company maintains 30% growth in sales every year, it also needs more and more employees to help take it to the next level. Check out open jobs at TQL here:
https://www.careerbliss.com/tql/jobs/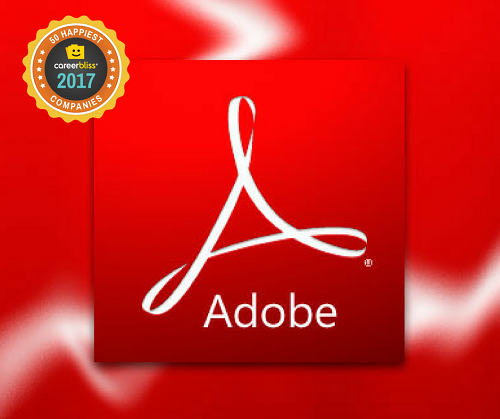 #6 Happiest Company in America: Adobe
Congratulations to Adobe, the 6th Happiest Company in America! Adobe Systems Incorporated is a major, leading creative computer software company with a focus on interactive and multimedia features. With over 9,000 employees, the company is headquartered in San Jose, California. Innovation is key to the success of Adobe. Their overall goal is to provide users with impactful software and ensure that the customer experience is above excellence.
An Adobe employee had this to say: "Adobe is a great company, they have a great culture and they care about their employees. They have intelligent people, great benefits, and flexible working hours!"
Another reviewer reports: ""I've worked for Adobe for almost 10 years. It is a great place with plenty of benefits. The atmosphere is highly collaborative and energizing. People have always been friendly and helpful; very professional. It is very much like a family."
Adobe is hiring – browse currently open jobs here:
https://www.careerbliss.com/adobe/jobs/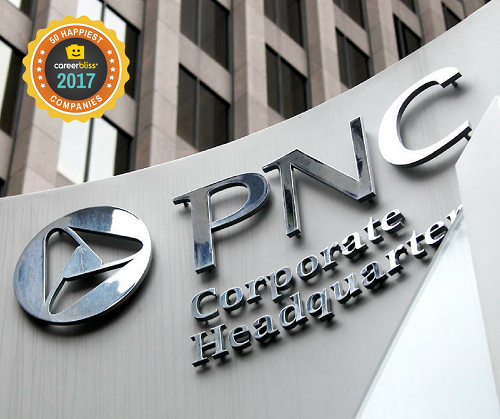 #7 Happiest Company in America: PNC Financial
Congrats to PNC Financial, The 7th Happiest Company in America! Its culture, excellent benefits and commitment to its staff make it one of the top employers in the financial services industry.
An employee had this to say: "I have never worked for a bank that truly cares for its team members as much as PNC does, the work environment is amazing from the top senior management all the way down. The company truly cares for its team members and for what they have to say with each of their opinions making it count. The opportunity for growth, internal business partners' relationship, community focus, and the energy and positive outlook is amazing."
Yes, they are hiring:
https://www.careerbliss.com/pnc-financial/jobs/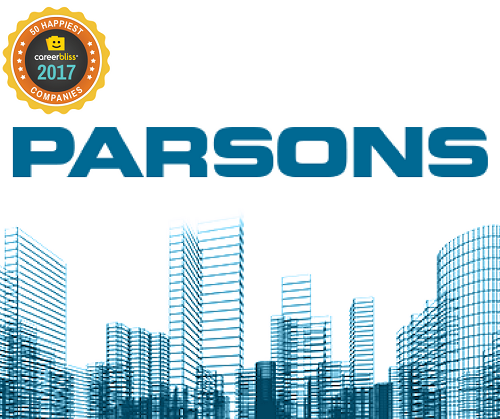 #8 Happiest Company in America: Parsons
Congrats to Parsons, the 8th Happiest Company in America! One of the United States' largest companies, Parsons reached revenue of $3.1 billion in 2014. Specializing in construction, technical, engineering and management services. Parsons is looking to fill positions for area managers, project managers, land engineers, construction managers, lead operations inspectors, project controls engineers and specialists, commissioning engineers and principal engineers. For more than 56 years, Parsons Corporation has never stopped creating cutting-edge technologies and solutions in an effort to improve people's connections with the rest of the world.
Says one employee: "I've worked for Parsons more than 10 years. Great working environment. The company emphasis is on safety and has very good safety training program."
Another reviewer says this: "The group I was in was full of great people, and the manager was the best. I would work there again any chance I get."
Is your career bliss at Parsons? Check out their open jobs here:
https://www.careerbliss.com/parsons/jobs/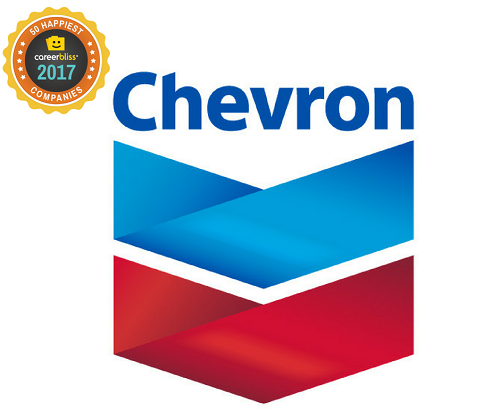 #9 Happiest Company in America: Chevron
CareerBliss Congrats to Chevron, the 9th Happiest Company in America! Chevron Corporation is one of the major 6 oil and gas companies in America. Founded in 1984 and employing over 60,000 people worldwide, Chevron's overall goal is to safely produce and provide reliable energy. Part of their success deals with their commitment to operational excellence, which involves making it their number one focus to put safety first.
A Chevron employee had this to say, "Great work-life balance; transparent and equitable evaluation process for employees; generous compensation and benefits."
Another wrote this heartwarming review: "Great company. Management always takes the high road. I have been here 18 years and don't plan on leaving any time soon. Love my job and couldn't ask to work for a better company."
Discover for yourself if Chevron is the company for you:
https://www.careerbliss.com/chevron/jobs/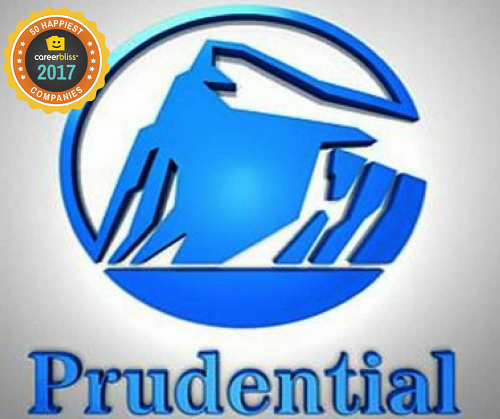 #10 Happiest Company in America: Prudential
Congrats to Prudential Insurance, the 10th Happiest Company in America! Providing life insurance, mutual funds, annuities, pensions, asset management, commercial and residential real estate, retirement-related investments, and securities brokerage.
An employee says, "I've seen them deliver speakers and messages about my personal happiness, provide new chairs for all our desks, upgrade our cafeteria, give us a market adjustment on our salaries to keep in line with the industry - not based on anything but staying competitive. Concerned about their employees, believe their people are their biggest asset and they prove it time and time again."
Says another employee: "I've worked for Prudential for a month now. What brought me to this company is their culture of loving their employees. I like the fact that this company has a history of retaining employees. There are employees with decades of experience still here and Prudential leadership encourages this longevity."
Browse jobs at Prudential:
https://www.careerbliss.com/prudential/jobs/
---
---
Want to nominate your company for the 8th annual CareerBliss 50 Happiest Companies in America awards list? Simply leave a review here telling us what you think of your job, for a chance for your company to be included in next year's awards.
Start your employer review using our easy to follow wizard HERE.