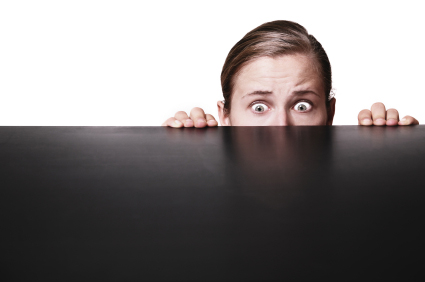 The first day on a new job is always a whirlwind of anxiousness, nervousness and excitement. It's a start of a brand new chapter in your life!
You only get one chance to make a great first impression on your new colleagues – but sometimes you just can't catch a break.
We asked our CareerBliss Community to share some of their first day horror stories. Here are some of our favorites.
Sick on the First Day: Brant Skogrand, who now is the chief communications officer of Skogrand PR Solutions, was stoked to start working at an awesome Fortune 500 financial company in Minneapolis years ago. But on the first day he showed up little wheezy and nasal-drippy with cold sweats.
"I felt so embarrassed. There wasn't anything that I could do, so I told my boss, and he told me to go home," he says.
***
Scarlet Fever: Amy Shoaff, an interactive marketing director, went to her first day of fulltime work after a five year hiatus as a new mom. There she was – ready to make her amazing comeback! As luck would have it, she got a call from her kid's school: "Your child has a rash," the school nurse said.
"So, I took her to the doctor and she had scarlet fever" Shoaff told us. "Who gets that?" She had to work from home for two days after that!
***
Staring at the Wall: Aron Susman, co-founder of TheSquareFoot, shares with us a lonesome tale. At his last job, he worked at a large healthcare tech firm under a head honcho (aka the CFO). But on his first day, the CFO was too busy to give him any work to do or go introduce around.
"So I sat in my office with literally nothing to do and did not even have a computer," he says, "I literally just sat at my desk, stared at the wall and walked around a bit." This continued until about 11:30 p.m. (when his boss left for the day without even noticing him). Awkward.
***
You Work Here?: Jennifer Hancock (who is now a writer, speaker and humanist at Jen-Hancock.com) was naturally nervous on her first day at a rather large firm, wondering "Will people like me?"
"So I get there and no one knows what to do with me or what I am there to do," Hancock tells us. "They gave me an empty office to hang out in and I did my best to be productive, reading up on the company and things like that."
It seems that her interviewer failed to notify anyone that she'd been hired! Whomp, whomp.
***
On Fire: Steve Dilts was once a freshly minted school teacher, ready to embark on his journey to mold young minds. There he was, standing before his very first class of 9th graders just about to start his first lesson.
When suddenly, a "wide-eyed 6th grader called to me 'Mr. Dilts, Mr. Dilts! You need to go to the office— your house is on fire!'"
Was this a first-day prank? he wondered. No such luck. The school secretary urgently appeared in the doorway confirming that his rental house, about a dozen blocks from the school, was in fact on fire.
"I rounded the last corner to our street in time to see flames start shooting 20 feet, into the air above our cedar shake roof," Dilts says. Had another five minutes gone by, the old roof would have gone off like a firework, the crew chief told him.
Dilts returned to school in time to start his next class on time, with a salvageable house and a good story to tell.
***
Waylaid in the Warehouse: Ally (who prefers to conceal her full name for confidentiality) had hardly been seated at her computer on the first day of her job before she was whisked away and taken to the company warehouse, dropped off in front of a mess of boxes (in her heels and pantsuit!) and instructed to create displays for their warehouse sale the following week.
"After walking back in the rain to the office building to retrieve my belongings I had found tons of missed calls from my concerned fiancé and family who had thought I'd gone missing," she says.
***
Meet the Company Mouse: Lisa Concepcion, marketing consultant and editor of Lisa Takes Miami blog, started a new job about 10 years ago with a PR firm in the Big Apple.
Her spiffy office turned out to be "a closet and in the corner I hear scratching and a squeak," she says. "I look over and there's a small mouse hanging out as if to say, hello, I'm your new office mate. Can I get you some Post-Its?"
She immediately walked out, said this is not going to be good fit and found another job two weeks later.  Cheers to you, Lisa, for not putting up with pesky, mousy coworkers!
Share your story! Ever had a terribly nightmarish first day of work?