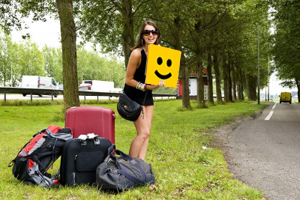 Right now, the job market is hot. This may seem counter intuitive with what you hear on the evening news. However, those of us in the recruiting industry are seeing a major uptick in hiring nationwide. I won't pretend to know what the future will hold, but I will tell you that the job market is better now than it's been in a while.
So if you've applied to a job recently, chances are you've probably had an interview or two. In fact, many persistent job seekers are receiving multiple job offers, and in some cases great opportunities to work in other cities.
When that happens, many people are faced with the tough decision of relocating for a new job. For example, I had a candidate from California with two offers for product manager roles: an offer of $105k in Los Angeles and another offer for $95k in Houston. Both offers were from Fortune 1000 companies, allowing him to continue his desired career path. After careful evaluation, he decided to accept the offer in Houston. Even though the salary offer was not the highest option, his cost of living in Houston was lower and he avoided the state income tax. In his case, it made sense to opt for the lower salary.
So, if you're in a similar situation, how do you know if relocating is right for you?
Some factors to consider before you relocate: Does your offer include relocating to a new area, higher salary, and a better job title? Don't base your decision on just what's in front of you. Always think about the big picture. Ask yourself, "What do I get out of this in the long run?"
Many folks focus on salary as the only reason to accept a new job offer. Salary is a major component, but you could sell yourself short if you use that as the only basis for accepting an offer. Better pay might sound great for now, but accepting the wrong job can result in an adverse effect on your long-term earning potential.
Another major factor you should consider is the strength of the job market. If you are a software engineer and looking for jobs in San Francisco or Silicon Valley, for instance, you are likely to party like it's 1998 all over again because that field is booming with jobs in those areas. Do some homework and see if the job market you're considering is healthy.
Overall, salary and job title are important, but you should also always be open to conversations about career advancement in the long run. Understand that salary and job title are only small parts of the big picture when deciding on a new job elsewhere.