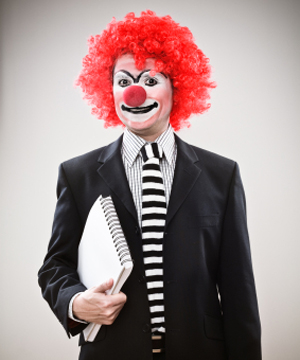 If you're lucky in your career, you may be blessed with a great manager who elevates your performance and inspires you. On the flip side  you could be cursed with a dim-witted boss who insults your intelligence and gets on your last nerve.
If you are really smarter than your boss, you should be able to get the upper hand; however, it's your emotional intelligence that will serve you best in this situation.
It's easy to be jealous and resentful that someone who's slow on the uptake makes more money, gets more credit and tells you what to do. It's hard to control your feelings, so try to put them aside and be pragmatic.
Argh! Is this Person REALLY In Control of my Future?
Life isn't fair and sometimes dummies rise above us in the workplace. Figure out your manager's strengths and why he/she got the job. Is your boss politically savvy, skilled at managing up, able to talk a good game, always in the right place at the right time, friendly with or related to the right people? Take note in case any of these skills can serve you in the future.
What makes you think your boss is stupid? What are his/her weaknesses? Is your boss unable to make decisions, lacking in knowledge or experience in his/her job, leading the department down a wrong path, not listening to good suggestions, asking the same questions repeatedly, the dullest bulb in the pack? That stinks but keep in mind, if your boss is a failure, you may look like one, too
So What do You do About it?
Setting work goals provides opportunities for growth and renews interest in your job. Sometimes the goal isn't learning new software or mastering new tasks, but instead more introspective and focused on personal self-improvement. Maintaining composure in an exacerbating situation takes maturity.
Can you deal with it and play on this knucklehead's team? Here are tips to help you survive and succeed:
Refrain from telling everyone that your boss is not the sharpest tool in the shed.
Be careful not to intimidate your boss and play into his/her insecurities.
Suppress desires to embarrass your boss in front of others or else risk looking like a bully.
Don't try to make yourself look smarter at your boss's expense. Being smart is always a good thing, but accentuating someone else's negative diminishes your ability to appear positive.
Showcase your accomplishments in a way that shares the spotlight with your boss.
Look for ways to raise your profile in the company so that others know your contribution.
You may be perfectly correct that your boss is dull, but like most things, this is a matter of perception. You take a huge risk if you go to upper management to tell them they made a mistake hiring this clown. You may find yourself feeling foolish when you're the one out of a job.
It may be too aggravating to be at a job where you're reporting to a dense manager. Use this as an opportunity to practice bettering yourself while looking for another job with smarter leaders