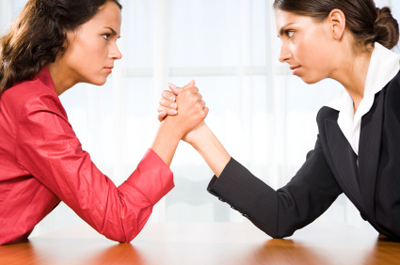 Have a professional rival? Try turning that fierce competition into fruitful collaboration.
Just imagine: You can stop constantly comparing your achievements to his. You'll no longer feel threatened or jealous by his unique skills. And the incessant one-upping can finally be laid to rest.
By melding two great minds together, you will be able to move much bigger mountains than if you were to do it alone – like a superhero duo! Of course, turning your archrival into an ally is no easy feat. How do you know that he isn't still out to throw you under the bus?
These are some ways to help take the "enemies" out of "frenemies:"
1. Break the Vicious Competitive Cycle
"Power is getting the outcome you want, not being dominant," says Hope I. Hills, Ph.D.  and president and senior consultant at Circle Consulting Group.
When you're involved in a hypercompetitive relationship, one person needs to break the competitive cycle. Being that person, Hills says, can actually give you more power.
You need to "choose to change from angry and pushing back to strong, but questioning and engaging," Hills says. "Realize that moving from hostile to open is truly being powerful -- not giving in."
2. Call a Truce by Lending a Hand
The best way to break the cycle is to do something to genuinely help your rival. Evadne Macedo, co-founder of Idea Systems Inc., suggests you change your dynamic by volunteering anything that could be useful to your rival.
"This usually disarms the attacks and earns respect which then can lead to more effective working relationships," she says.
It won't happen overnight, but it will certainly get the engines reveling!
3. Partner Up & Clarify Roles
Unless you are clones (which would be weird), you and your competition can bring something totally unique to the table. Wave a white flag by clarifying each of your strengths. Ask yourselves: "What can we do together that we could not do alone?" Ben Hecht, president and CEO of Living Cities, says in the Harvard Business Review.
Then, figure out a project or assignment that you can work on together.
The project "has to be something sizable enough to rope them in but once you do this, and see this partnership through to conclusion, you will have a completely different dynamic between the two of you," Jameson Brandon, Digital Centirx.
Remember: if you bypass clarifying roles, you're just asking for a huge messy puddle of doubled efforts and hard feelings.
4. Give Credit Where it's Due
Usually, workplace competition is unspoken. But it's hardly ever unnoticed.
"Your boss and your boss' boss knows about the conflict you're having. Believe me," says John Paul Engel, strategy consultant and founder of Knowledge Capital Consulting.
So, they'll notice when you try and build a bridge by giving credit to your rival where it's due. "The credit for resolving the relationship even if you have to bend over backwards will go to you. In the long run that is what is important," Engel says.
5. Try to See Life from Your Rival's Perspective
Of course, none of this will be easy unless you build some trust. One way to do this is to get to know each other outside of your professional rivalry.
"Getting to know each other as human beings builds trust," says Scott Crabtree, chief happiness officer at Happy Brain Science. "And trust makes us feel safer, letting our brains work better."
Turning your enemies into friends (or at least acquaintances) will make an all-around happier workplace and foster collaboration. Plus, "that rival today maybe your boss or client in the future," Engel says. "No need to compete. The world is big enough for the both of you."